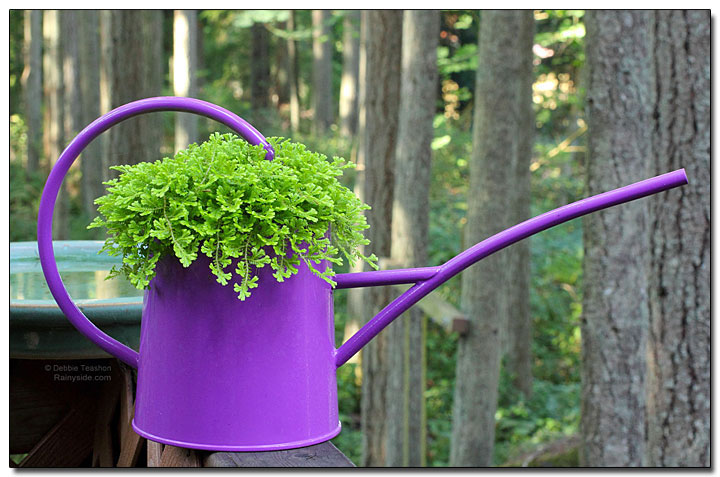 Now that I live in a forest, I am exploring more shady character plants. I love growing Selaginella kraussiana 'Aurea,' an exuberant spike moss, an excellent plant for containers. Yet I like how the stunning chartreuse foliage pairs splendidly with many colors, such as the violet-purple of this decorative watering can.
A choice of several unique colors made me want to purchase one. When I initially looked at them, I picked up a lovely aqua-blue one, and the handle broke away from the body. The welding was poor. I doubted the handles would hold up for an entire season of watering. I knew planting something in this cheap, metal-watering-can would make good use of it.
I chose the purple one.
Of course, drilling a drainage hole in metal makes it rust pretty quickly, so it will be interesting to see if the metal holds up for next year. However, rust makes an interesting patina. That may be another post in the future.
I loved the two colors together. The watering-can sat under the shade of towering conifers.
The spike moss held up for nearly three seasons. In December, a two-inch rain deluge followed by frosty temperatures brought it down. I am pulling it under the house's eaves to see if it can survive in a drier environment. If the plant dies, there is always next year.
I think something like this would make an inexpensive yet cute hostess gift for a garden party.
Update: As I predicted, the watering can fell apart, the spike moss didn't make it through the winter, and I moved on to something else. I enjoyed it while it lasted.