Fun with Tillandsias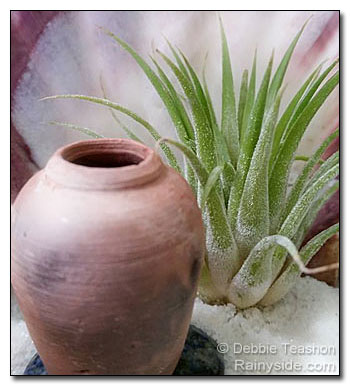 Have you ever had objects for a long time, and although you hung on to them because you liked them, you never could find a useful purpose?
Some years ago, my daughter sent me a gift — a kit that contained a glass globe, a bit of moss and pebbles, and an air plant (Tillandsia). I vaguely remember having one back in the 70s, and here was a new one to grow again.
I put the little pebbles in the globe, followed by the bits of moss and the tiny plant itself. "Cute," I said and placed it in the kitchen window. I took care of it for a long time. Spritzing it occasionally and giving it an hour-long bath at room temperature water once a week, soon the air plant outgrew its globe.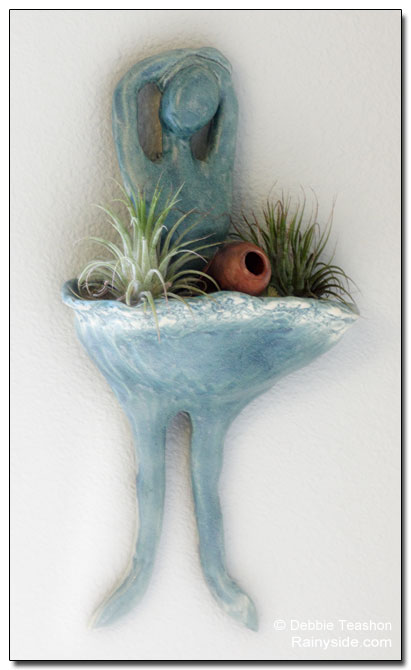 A ballerina sculpture I purchased from a gallery hung on my bathroom wall beside a window. Now that would be fun to fill her tutu with Tillandsias. One thing led to another; before long, another air plant and a tiny pot resided in her skirt.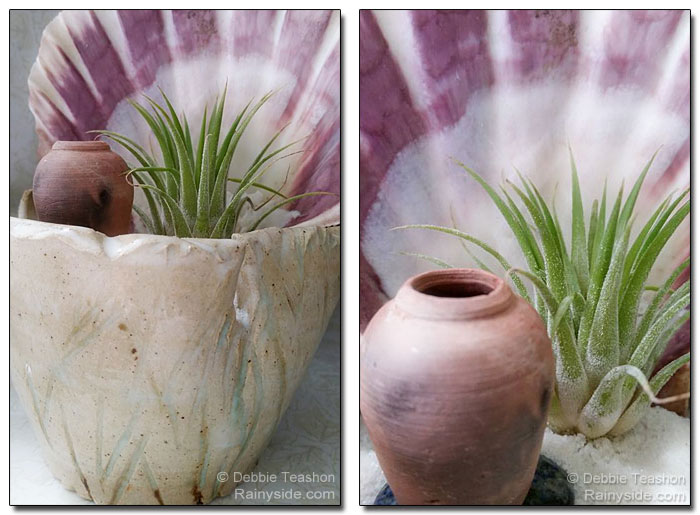 I bought more Tillandsias. The fun came from how I would display the air plants. I found an old pot I made in a pottery class in the 90s and filled it with white sand. The little terracotta pot migrated from the ballerina to this one. I placed the shell upright as a backdrop to the small garden.
It was a cold winter night, or maybe that night was hot and happened in summer — I'm not sure which. However, I remember boredom. I had collected some pieces of driftwood for some time. Then the Tillandsia still-life's began.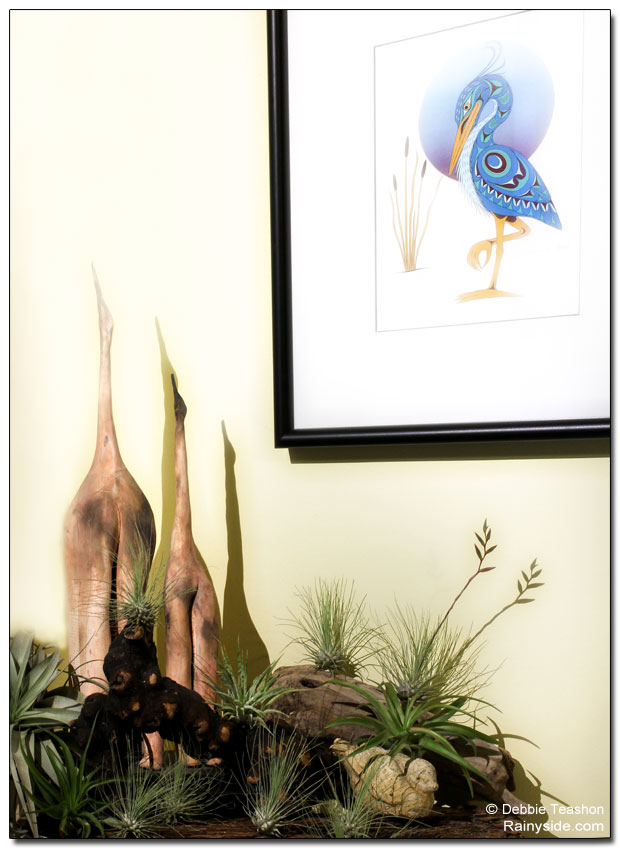 The first still-life featured bird sculptures, which happened to be by the same artist who created the ballerina. My indoor toys became an adult version of playing with a dollhouse, only they are ephemeral, miniature gardens.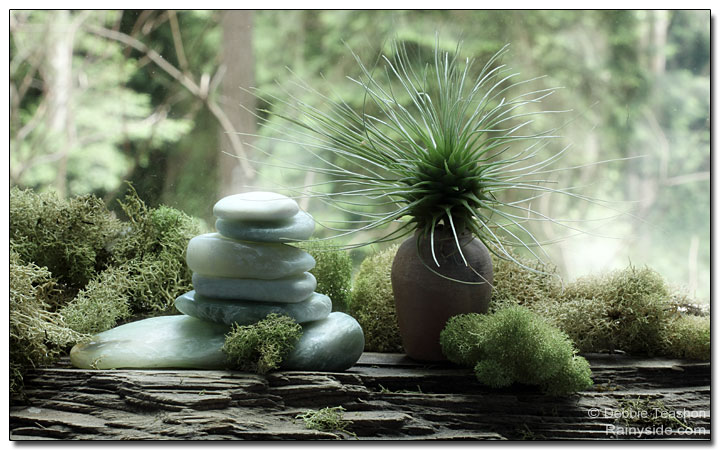 More recently, this still life came from another piece of driftwood I placed on a window sill. I put reindeer moss on a piece of driftwood and stacked some decorative rocks into a cairn. The tiny raku pot found its way into this scene too. The little container was made by my highly creative friend, Mark Jackson, who makes pottery, but is also a musician, painter, and graphic artist. He is full of a great creative spirit. Jackson gave it to me when we had our art booths across from each other at an art show at Chateau Ste Michelle Winery in Woodinville, Washington. I've used this pot for many a still-life.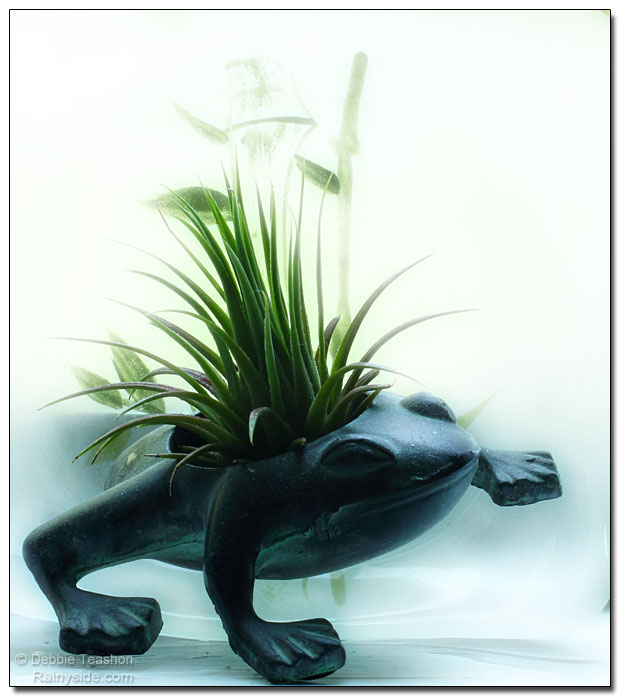 Along the way, I discovered tealight holders work great as air plant stands. The frog tealight is another item I have kept for many years and now has another purpose.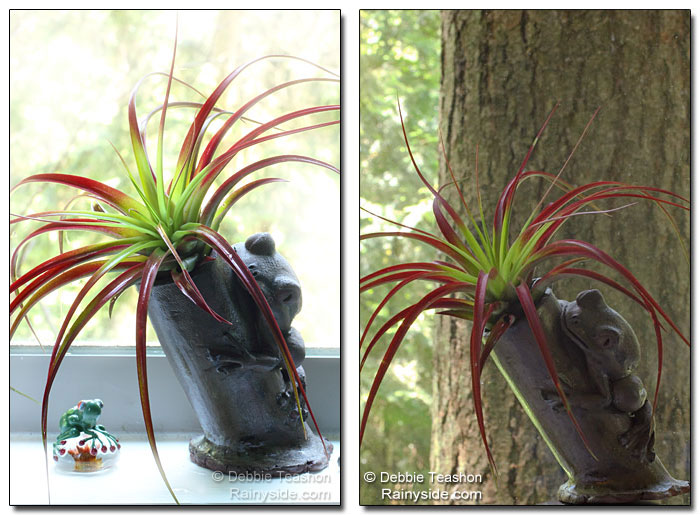 The frog vase sat on my bookshelf, collecting dust for two decades with nothing in it. I loved the vessel but rarely found a use for it besides sitting on the shelf.
While unpacking a box from my last move, I unwrapped the frog vase and set it on a windowsill. Shortly after, I bathed the Tillandsias; an idea struck, this might be a perfect holder for my red-tipped air plant. Why didn't I think of this before? They are perfect together.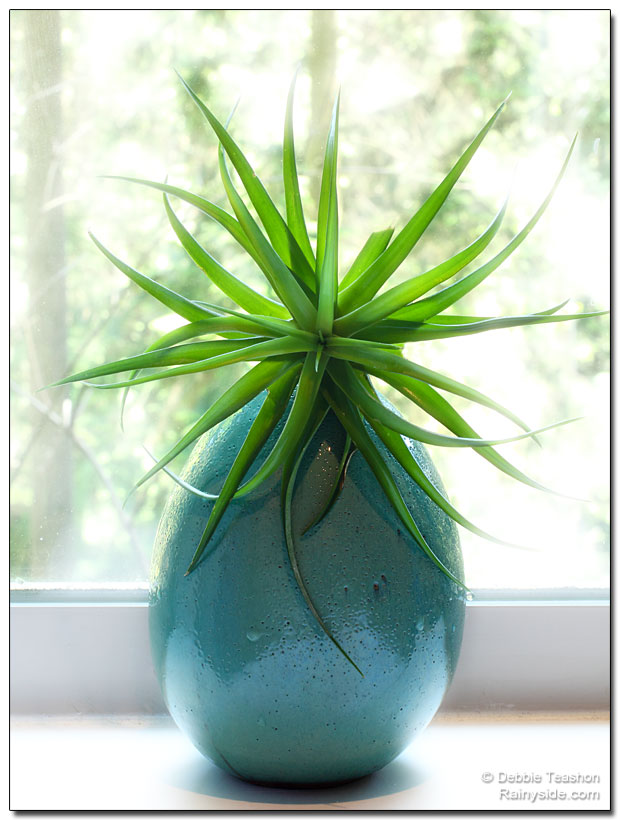 This green vase with a tiny opening was another pottery that sat looking pretty on the shelf until I packed it away for a few years. Unpacking it, I plunked down another air plant that barely fit the hole. It now sits on the shelf in the middle of two sevens.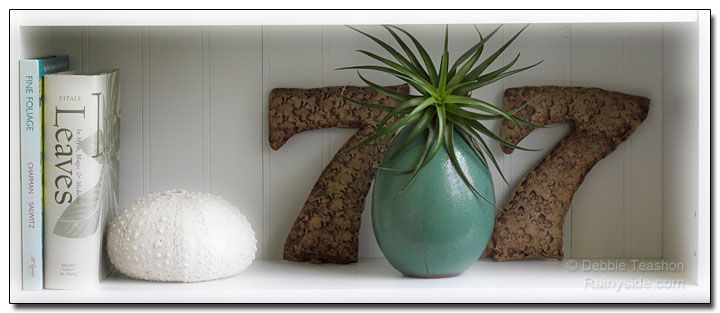 The sevens were part of my complete address, made especially for me by a potter. I glued the pieces onto the arbor I built. When I moved away, I tried to pry the numbers off. All the other numbers broke except for these lucky sevens. I almost tossed them too, yet I decided to keep them for some reason. When I unpacked, I thought about them being lucky sevens in more ways than one.
When I put the vase on the shelf with the Tillandsia, it looked all right but seemed too barren. I tried it with the sevens, and it looked great. Now I call it 707.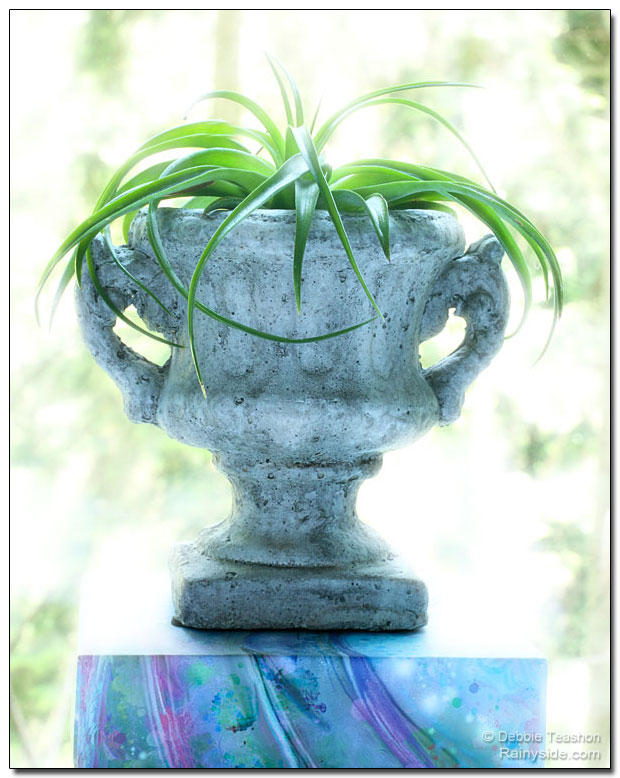 And the winner is… Tillandsias!
Tillandsias offer so many creative ways to display them. Good clean fun — literally — I can play with a plant and not get dirty. Plant it on just about anything. I am trying many new ways to display it — it keeps me out of trouble.
Oh! Now, where did I put the art deco candlestick holders?
Share