About Debbie Teashon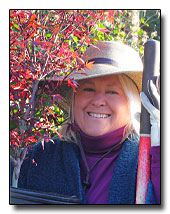 Contributing garden writer for West Sound Magazine, Teashon's articles and photographs also appear in local, national, and international magazines and newspapers. Some of the published magazines include Fine Gardening, Master Gardener, Tardigarde (Sweden) and HGTV Magazine. At the same time, Newspapers include the Oregonian and a monthly garden column in the Kitsap Weekly (no longer in print).
Debbie Teashon is a garden writer, an award-winning co-author of Gardening for the Homebrewer, garden speaker, and award-winning photographer. Her career spans many decades. Her speaking engagements include the Northwest Flower & Garden Festival, Tacoma Home & Garden Show, Peninsula Home & Garden Expo, and garden clubs. She's been a guest on Garden Time television show in Oregon and radio programs such as Gardening with Ciscoe on 97.3 FM KIRO radio and Poppy Tucker's Louisiana Eats on NPR.
Teashon's website Rainy Side Gardeners focuses on regional gardening west of the Cascades. Gardening most of her adult life, she is always on the hunt for new varieties of plant material or creating new container designs using beautiful pottery or repurposed items. Teashon is working on melding the website to this blog.
History of Rainy Side Gardeners
Rainy Side Gardeners started in 1998 with Debbie Teashon and Travis Saling — two Northwest gardeners and friends who live about 60 miles apart in western Washington state.
Before Rainy Side Gardeners, each had Web sites offering gardening resources, advice and help. In addition, both wrote gardening articles for other websites. Debbie approached Travis about combining efforts and starting a new site.
Over a few years, they spent many hours talking about their gardens and giving each other advice. Eventually, they came to realize that the other's gardening knowledge complemented their own quite well. Therefore, they combined their efforts, focused them more clearly, and created Rainy Side Gardeners.
After six years, Travis branched out with his website focusing on edible gardening in the maritime Pacific Northwest called West Side Gardener and is full of valuable edible gardening information.
Debbie continues with Rainy Side Gardeners bringing information to help fellow gardeners in the maritime climate of the Pacific Northwest.
"The very best of the best. Geared specifically toward gardening in the maritime Northwest. Amazing photography, plant bios, forums for information exchange, calendar, articles on every aspect of gardening. Put it at the top of your bookmarks because you'll be using it a lot." -The Oregonian