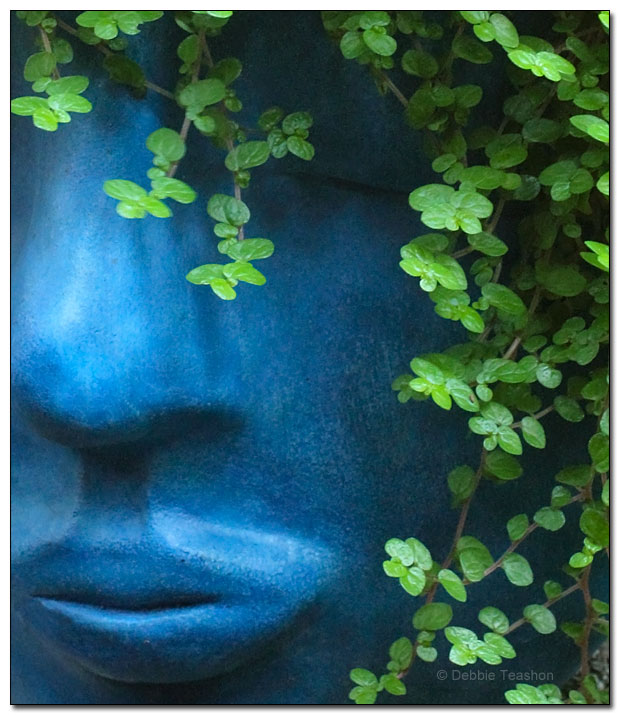 I meant to write an essay about this face container early on when I first displayed it, but I am glad I waited so that I could see the progression of growth. Planting the container early in July, the photo below was shot right after the baby tears (Soleirolia soleirolii) went in. She still had a dirty face, and the tiny plant was mushed. I liked how the plant framed her face as she continued to fluff out beautifully.
I bought this pot early in January, after a month-long search on Etsy.com. I love how the blue face container stands out. I decided to display it on the large tree Douglas fir trunk beside my stairs.
With the opening of the pot being small, choosing a plant took a while. Only one plant could realistically fit and would have to be growing in a four-inch pot or smaller. A flowering plant didn't seem to fit the face style. I first thought to plant it with a golden sedge (Carex 'Bowles Golden') because the color would compliment her face beautifully. In the shade, the sedge would be more chartreuse. In full sun, the foliage would be more golden. Either color would look great with the blue.
I may still do that planting in the future. If I use a sedge, I may have to create a loose ponytail or pigtails with the sedge blades, so its growth doesn't completely cover the face. The other thought is training it to sweep to one side. That will be an experiment for a future date.
I find it hilarious when a plant becomes a hairstyle. I placed the root ball a little sideways when I planted the face. After hanging her on the tree, I thought the look had a retro, punk-style hairdo from the 80s. Today I see a Blue Man Group vibe to it. If they had a female drummer, that's how I imagine she would look.
I love the asymmetrical growth! I really appreciate the green baby tears with the cobalt blue.
I brought the crow woman sculpture up to be with her. It's fun to view at three different angles — from the ground looking up, eye level on the stairs, or looking down from the deck landing.
The pot is made from concrete, so it can stay outside all year. The baby tears, however, are marginally hardy in the maritime Northwest. It most likely won't survive in a container except during mild winters. If the plant lives, I will plant it in the ground and refresh the pot with another plant.
Living in the woods is challenging as I change my pots to be shade oriented. This one is fun; I can't wait for next year to see what a new hairstyle will do for her.