2020 New Plants for a New Year (and 2022)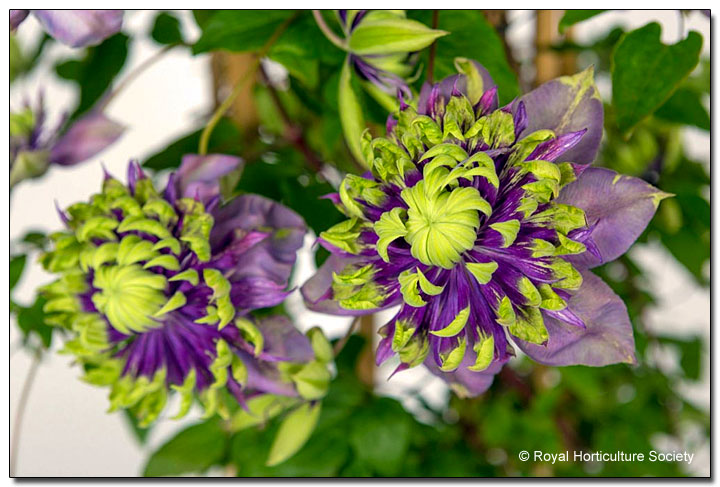 Avid gardeners have a lot to celebrate in the New Year — a fresh garden season and innovative, new plant introductions for the garden. Here are some exciting new varieties to look for at your local garden centers. If you don't find them on the shelves, ask your favorite nursery to order them for you.
Nepeta subsessilis 'Balneplud' — Blue Prelude™
This compact, mounding, short-stalked catmint with minty fragrant foliage is not only a disease- and insect-resistant variety; it has a long flowering time. With N. subsessilis in its bloodline, it means large flowers. The large blue flowers make it a showstopper, while the scented foliage attracts beneficial insects to the garden.
The perennial flowers the first year in the garden; by the second year, the plant will grow to its full potential of 3 feet tall. This catmint will take more moister conditions than most of these perennials.
Height: 28-36 inches
Width: 11 inches
Light: Full sun to partial shade
Soil: Moist, well-drained
Pruning: After flowering, prune stalks back to promote bushy growth.
Clematis florida 'Taiga'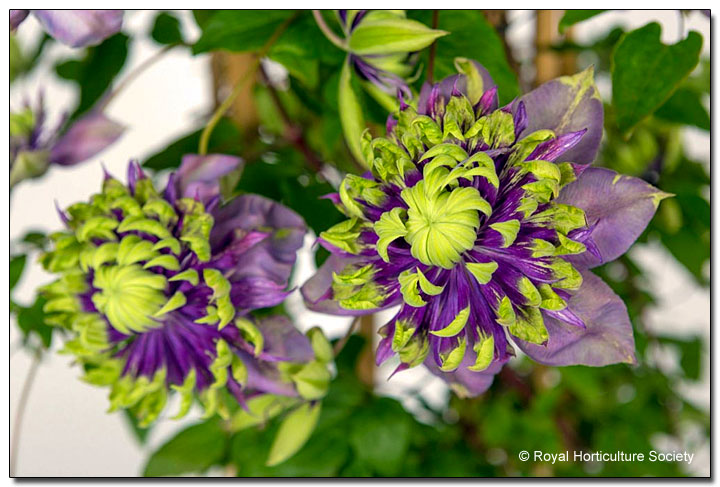 With hundreds of clematis species and too numerous to count cultivars, we are not too often overly excited about another new clematis variety hitting the nursery trade. However, the world takes notice when a breeder from Japan creates a floriferous work of art with dazzling, blue-purple flowers with lime-green petal tips.
The exotic, passion-flower-like Clematis florida 'Taiga' is a masterpiece in clematis breeding. The vine's breeder, Shigeaki Ochiai, named it Taigah (pronounced TIE-guh), which means great river. The unusual flowers develop in three phases. The blossoms start with the bud opening in single flowers. Later they open with large, double flowers. The long bloom period adds to its value as a landscape plant, with flowers beginning in May and ending in September.
Clematis florida 'Taiga' has now reached the Northwest shores. Introduced at the Chelsea Garden Show in England in 2017 and nominated for the Best in Show award, the vine created a stir in Europe. In 2016, 'Taiga' won the Dutch trade fair's Plantarium's Press Award. Local nurseries will be stocking this award-winning vine on their shelves.
The 8-foot-tall vine grows on fences, trellises, and obelisks. This vine would look superb growing through a large shrub with yellow to golden foliage, such as the Dart's gold ninebark (Physocarpus opulifolius 'Dart's Gold').
Height: 8 feet
Width: 5 feet
Light: Full sun to part shade
Soil: Well-drained, fertile, humus-rich
Feeding: In early spring, fertilize with an all-purpose, organic fertilizer — mulch with compost or leaf mold.
Pruning: Pruning group C. Blooms on current year's growth. Prune just above a strong pair of leaf buds (about 1 foot) in late winter to early spring.
Clematis 'Zo14100'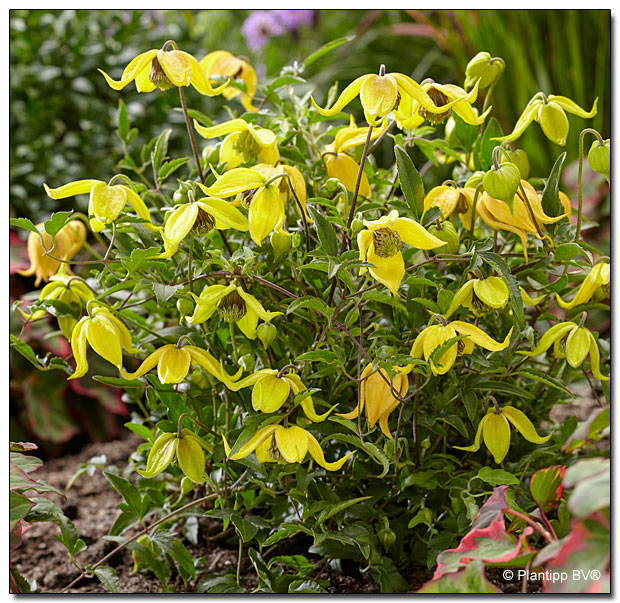 Most people think of a vine when it comes to clematis; however, Clematis 'Zo14100' is not a vine — it is a perennial. Breakthrough breeding produced this non-climbing dwarf clematis from the Tangutica group. It is an unexpected pleasure to see this growing so close to the ground, knowing it comes from the dynamic, growing group.
The perennial is equally at home in hanging baskets or containers. Lemon-yellow, nodding flowers cover the plant from mid-May until early September. The terminal flowers produce attractive, silky seed heads that last for a few weeks, yet the side shoots do not.
Clematis 'Zo14100' was voted the best novelty plant of Plantarium 2019. Sold under the tradename of Little Lemons™, the perennial was awarded a gold medal from the Plantarium 2019 for best novelty plant.
Height: 12 inches
Light: Full sun to part shade
Soil: Well-drained, fertile, humus-rich
Feeding: In early spring, fertilize with an all-purpose, organic fertilizer — mulch with compost or leaf mold.
Pruning: Pruning group C. Blooms on current year's growth. Prune just above a strong pair of leaf buds (about 1 foot) in late winter to early spring.
Impatiens walleriana — Beacon Select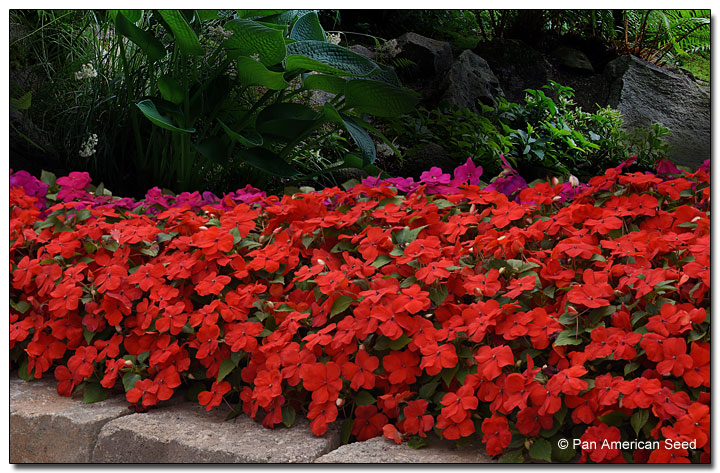 Gardeners, rejoice — the much-loved shade garden stalwarts, Impatiens walleriana (often called busy Lizzy), are making a comeback. It was unavailable in nurseries for many years due to the Impatiens' downy mildew (IDM) problems. The destructive foliar disease spreads fast, decimating the annuals. Reports of the disease began in 2004, but in 2011 widespread regional outbreaks took hold.
The spores from the host-specific water mold, Plasmopara obducens, are airborne and winter over in the soil. It has been near impossible to grow these popular plants — until now. Gardeners around the globe have missed these popular shade-tolerant annuals. Making a comeback, this select group of Impatiens walleriana is highly resistant to IDM.
PanAmerican Seed, a Netherlands team led by Ruud Brinkkemper, along with an American duo with product manager Lisa Lacy, plant pathologist Dr. Colleen Warfield and others, searched for plants resistant to the disease. After many plant trials, they selected those highly resistant to the condition.
They're available as bedding plants at nurseries and other retailers. If you want to start plants from seed, they are available this year through the W. Atlee Burpee 2020 catalog.
Height: 15-20 inches
Width: 12-24 inches
Light: Shade, partial sun, full sun
Soil: Humus-rich, moist, well-drained
Feeding: Every two weeks with a water-soluble fertilizer
Begonia 'Treasure'
Oregon-based grower Terra Nova Nursery has produced this handsome, evergreen, silver-leaf begonia as part of its Silver Begonia series. The plant took the Best of the Best award at the 2019 Trial Gardens at the University of Georgia, and a winner it is! A hardy begonia you can plant in the garden and mulch. Begonia 'Treasure' also does well in hanging baskets and containers. However, you will want to overwinter in a protected garage or greenhouse.
If you want more foliage choices for your shade containers, this silver fox adds a dimension that pairs with almost any color. The flowers are soft pink, blooming summer to fall — but grow it for the wavy, silvery foliage with a dense shrubby habit.
Height: 14 inches
Width: 25 inches
Light: Shade
Soil: Fertile, rich, moist, well-drained
Hydrangea macrophylla 'Horthart' — Seaside Serenade Cape Hatteras Hydrangea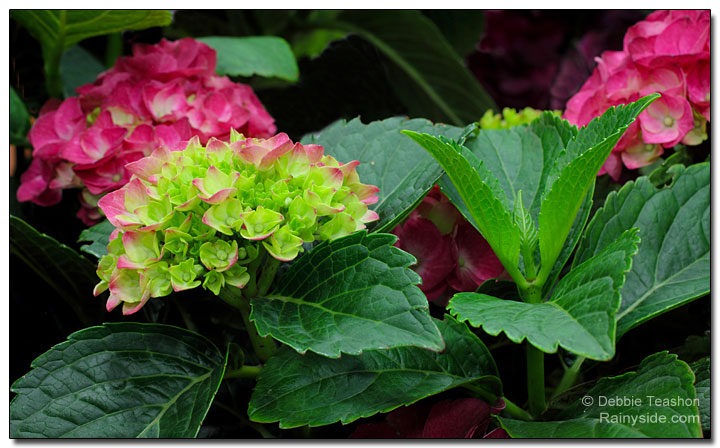 In August 2019, Monrovia introduced this tetraploid, compact hydrangea in the New Varieties Showcase at the Farwest Show in Portland, Oregon. This fantastic little shrub fits into small spaces, but the flowers are as large as any other mophead hydrangea.
There are no weak stems for this hydrangea. The extra-sturdy stalks hold up the large flower heads with ease.
The burgundy-red flowers hold their color for a long time. They start green, and before turning red, they have a marvelous two-tone effect. For the vase, they make excellent cut flowers, either fresh or dried.
Height: 3-1/2 feet
Width: 3 feet
Light: Morning sun with afternoon shade
Soil: Moist, humus-rich, well-drained. Hydrangeas need supplemental irrigation during summer droughts.
Feeding: Apply a yearly mulch of compost or composted manure. Fertilize in spring and twice in summer. Do not fertilize after August.
Pruning: Annually remove dead wood and deadhead flowers as needed. If pruning is necessary, do it before August.
This article originally written for West Sound Magazine — Jan/Feb 2020 Issue
Share