Nectar Plants for the Northwest Hummingbird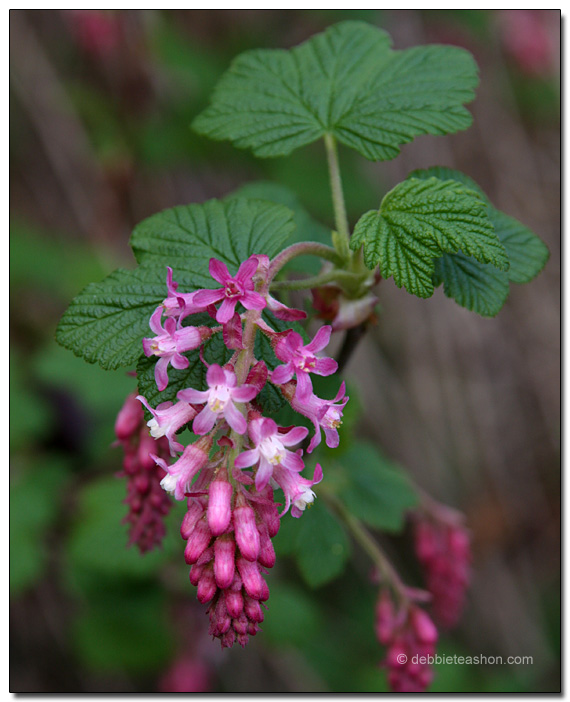 Here's a list of plants—alphabetized by botanical names—that provide nectar for the Northwest's migrating Rufous and resident Anna hummingbirds. Links to photos and information are for plants listed in Rainy Side Gardeners' Plant Gallery and Growing Guide.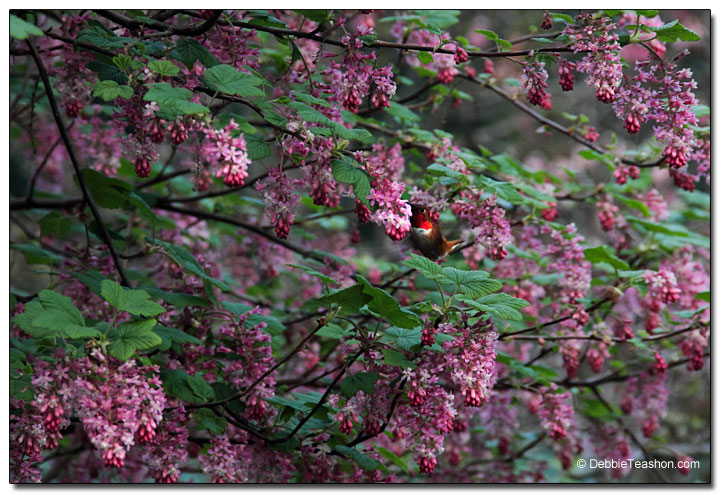 Rufus hummingbird visiting Ribes sanguineum 'Claremont'
*Plants observed attracting hummingbirds.
Abelia grandiflora GLOSSY ABELIA
Abutilon FLOWERING MAPLE
Acanthus BEAR'S BREECHES
Aesculus HORSE CHESTNUT
Albizzia julibrissin MIMOSA, SILK TREE
Alcea HOLLYHOCKS
Althea MARSH-MALLOW
Antirrhinum majus SNAPDRAGON
Aquilegia formosa* COLUMBINE
Arbutus spp. MADRONA, MADRONE
Asclepias tuberosa MILKWEED
Begonia spp.* BEGONIA
Bessera elegans CORAL DROPS
Borago officinalis* BORAGE
Campanula medium 'Calycanthema'* CUP AND SAUCERS, CANTERBURY BELLS
Campsis radicans TRUMPET VINE
Cantua buxifolia* MAGIC FLOWER
Ceanothus americanus CALIFORNIA LILAC
Cerinthe* HONEYWORT
Cercis REDBUD
Chaenomeles FLOWERING QUINCE
Cleome spinosa* SPIDER FLOWER
Cosmos* COSMOS
Cotoneaster COTONEASTER
Crategus spp. HAWTHORNE
Crocosmias* MONTBRETIA
Cupheas* (Many common names.)
Delphinium species & hybrids* DELPHINIUM and LARKSPUR
Dianthus species & hybrids* PINKS, SWEET WILLIAM
Dicentra species and hybrids* BLEEDING HEART
Dichelostemma ida-maia FIRECRACKER PLANT
Digitalis species and hybrids* FOXGLOVES
Echinops bannaticus
Echium plantagincum BUGLOSS
Echeveria species and hybrids*
Eccremocarpus scaber* CHILEAN GLORY VINE
Embothrium coccineum CHILEAN FIRE BUSH
Epilobium spp.* FIREWEED
Gilia tricolor BIRD'S EYES
Gladiolus species and hybrids*
Grevillea species and hybrids* SILK OAK
Hamelia erecta SCARLET BUSH
Helianthus SUNFLOWERS
Hemerocallis DAYLILIES
Heptacodium miconioides* SEVEN SONS TREE
Heuchera species and hybrids* CORAL BELLS
Hibiscus*
Huckleberries*
Impatiens*
Ipomoea MORNING GLORIES
Ipomea quamoclit* CARDINAL CLIMBER
Ipomopsis aggregata SCARLET GILIA
Iris
Jasminum stephanense* JASMINE
Lantana
Lathyrus* SWEET PEAS
Lavatera MALLOW
Lavandula LAVENDER
Leycesteria formosa* HIMALAYAN HONEYSUCKLE
Lilium* LILIES
Liriodendron tulipifera TULIP POPLAR
Lobelia Cardinalis* CARDINAL FLOWER
Lobelia tupa
Lonicera* HONEYSUCKLE
Lupinus species and hybrids* LUPINES
Mahonia* OREGON GRAPE
Malus CRAB APPLE
Mimulus cardinalis* MONKEY FLOWER
Mina lobata FIRECRACKER VINE
Mirabilis FOUR O'CLOCKS
Mitraria coccinea CHILEAN MITRE FLOWER
Monarda 'Cambridge Scarlet'* BEE BALM
Nepeta CATNIP
Nicotiana* FLOWERING TOBACCO
Papaver rhoeas FIELD POPPY
Parkinsonia microphylla PALO VERDE
Pedicularis WOOD BETONY, LOUSEWORT
Pelargonium GERANIUMS
Penstemon BEARD TONGUE
Pentas STAR CLUSTERS
Petunias
Phaseolus coccineus* SCARLET RUNNER BEAN
Phlox drummondii
Phygelius* CAPE FUCHSIA
Pisum sativum PEAS
Rhamnus purshiana CASCARA SAGRADA
Ribes species* FLOWERING CURRANT
Salvias *SAGES
Saponaria officinalis BOUNCING BET
Scabiosa PINCUSHION FLOWER
Silene spp.
Syringa LILAC
Tropaeolum 'Alaska Series'* NASTURTIUM
Tropaeolum majus* NASTURTIUM
Tropaeolum speciosum* SCOTTISH FLAME FLOWER
Vaccinium ovatum* EVERGREEN HUCKLEBERRY
Verbena
Veronica
Vitex agnus-castus CHASTE TREE
Yucca
Zauschneria californica ssp. CALIFORNIA FUCHSIA, HUMMINGBIRD FLOWER
Zinnia elegans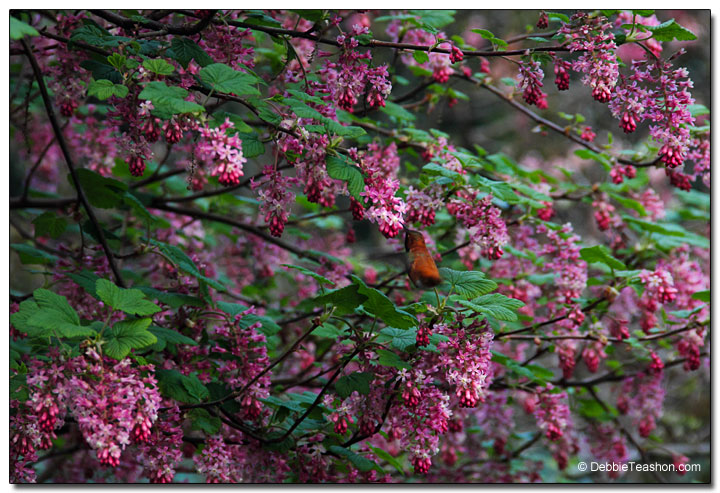 More about hummingbirds at Gardening for the Nectar Fueled Flying Machines.
Share