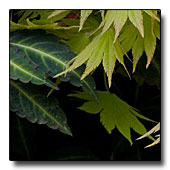 Flashback Thursday 2010
Some foliage combos are outstanding. Here is one I recently enjoyed in another garden — Acer 'Autumn Moon' and the perennial, Impatiens omeiana. I planned to plant my Autumn moon with Asarina procumbens at its feet because the snapdragon-like yellow flowers bloom simultaneously as the new maple leaves unfurl. But perhaps I need to rethink the combo or add in another foliage to the ensemble.
Acer 'Autumn Moon' began its life in a small terracotta pot that sat on my deck. I love containers that rely strictly on the foliage for good looks. This particular planting looked best when the plants didn't bloom! The copper tape around the bottom of the rim acts as a slug barrier. The plants are:
autumn moon maple (Acer 'Autumn Moon')
golden piggyback plant (Tolmiea menziesii 'Cool Gold')
coral bells (Heuchera 'Rave On')
Japanese painted fern (Athyrium 'Burgundy Lace') (not visible in this image)
lungwort (Pulmonaria 'Raspberry Splash')
Asarina procumbens is an excellent ground cover for shady conditions and would look great beneath the Impatiens and maple tree.
My conclusion is plant the Impatiens and Asarina with the Acer.