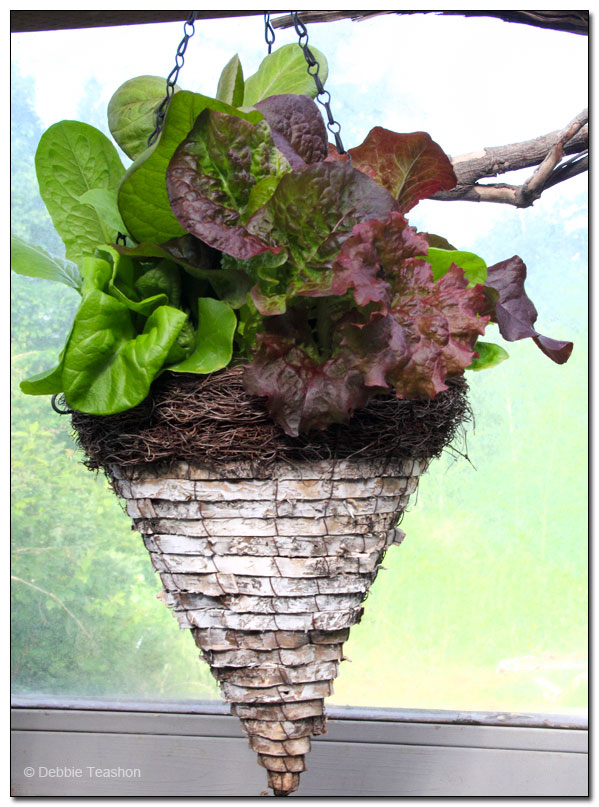 Who says an edible garden has to be boorish? Why not grow lettuce in pretty containers and hanging baskets? You can enjoy their loveliness and eat them too.
This container is full of plants that look good enough to eat, and they are! I used an old hanging basket made from birch bark rimmed with twiggy goodness and filled it with lettuce plants. The basket contains romaine, butterhead, and loose-leaf lettuce. Tonight I ate a large, colorful salad of fresh-picked lettuce from this container.
The best part about growing lettuce in the air is the slugs can't reach the plants. When it gets too hot, I move the container to the shade, prolonging the harvest period. At some point, the edibles begin to look ugly; the container is removed and replaced with another one.
Growing lettuce in containers is easy; they adapt to pot culture readily. Fill your container with organic potting soil, tuck your transplants into the mix, and feed them with organic fertilizers. Harvest the outer leaves of your lettuce until they turn bitter, as they start to elongate and prepare to set seed. If you grow heirloom or open-pollinated lettuce, let them go to seed and harvest for your next crop.