Stories Aquilegias Could Tell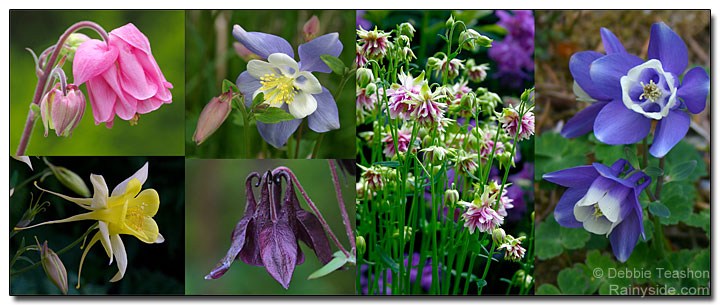 Do you remember biting off the tip of a columbine flower spur and sucking out the sweet nectar reward? I remember.
The genus Aquilegia has been cultivated and beloved by gardeners for centuries. Your grandmother and mother likely grew them, which may be why I always picture columbines as a staple in cottage gardens.
I also believed that columbines grew in more temperate climates. That notion changed in the 1980s when I found a golden columbine (Aquilegia chrysantha) growing in the seepage of a waterway near Montezuma's Well, a natural limestone sinkhole in the Upper Sonoran Desert of Arizona. While looking for turtles and avoiding leeches, I spied the yellow wildflower, looking like a typical columbine with extra-long spurs. It was a delightful surprise for me to learn they grew up in Arizona.
The specimen I found was growing next to the water. Even more surprising to me, this species and others prefer moist places. Like us, they seek out the oasis in a desert. No wonder the plants flourished when I grew them next to a drain field for a septic system.
That perennial made me realize the diversity and range of many plants I kept imprisoned in my mind behind white picket fences.
I agree with Armitage; although I have not seen a large group growing in the wild, a stand of it in full bloom in my garden astounded me. I created a meadow with Colorado's state flower, Aquilegia coerulea, which I grew from seed. Most people think the blue and white flower is a typical columbine flower.
Horsetail and columbine wanted to dominate the meadow scene. I kept the horsetail in check as best as possible because the blue flower was the show's star. Unfortunately, the columbine was short-lived, as many of these genera are, but the meadow was worth every effort.
Frequently spelled caerulea, the name coerulea means blue. However, the original spelling, coerulea, is the accepted one. This columbine is a lovely flower to grow, whichever way you spell it.
I sow mine from seed as I do most aquilegia. Since this genus tends to hybridize freely, a reliable seed source is necessary to ensure you grow the species you want.
Hummingbirds and hawk moths that can reach the nectar in the long spurs pollinate the flowers. I remember watching bumblebees chew holes into the spurs, stealing the nectar without offering a pollination payment in exchange.
Indigenous people chewed the seed or used an infusion of roots for abdominal pain or when feeling sick. They also used it as a medicine for the heart.
Aquilegia vulgaris, commonly called granny's bonnet, offers a variety of hybrids to grow. Stunning in their simplicity, the single flowers, such as the deep purple and white flowers in 'William Guiness,' make them worth growing.
This columbine has an attractive deep purple flower; it is so dark it appears nearly black! The short spurs, typical of the vulgaris species, are incurved, and the spurs remain above them because of the nodding flowers. Along with the color, this is what I like most about the blossoms.
In his book COLUMBINES Aquilegia, Paraquilegia and Semiaquilegia, Robert Nold noted that A.' William Guiness', although listed under vulgaris, might not be a hybrid of one species but a cross between A. vulgaris and A. atrata. It's not surprising since columbines are a promiscuous genus. Unless you grow only one aquilegia species, its progeny will likely be a cross of whatever is growing in your or your neighbors' gardens.
The pink, double flower of 'Dorothy Rose' stood out against a chartreuse backdrop of Chamaecyparis 'Wilma.' I love its common name — Granny Bonnets, even though I think it looks more like a pleated skirt. These old-fashioned flowers are lovely in a children's or cutting garden.
When this plant began to flower in my garden, I thought it was a chance seedling. It turns out I bought this columbine at a plant sale, according to my records. I don't remember planting it, so it may have been a spur-of-the-moment planting to get it in the ground since it didn't end up in my location records.
The spurless, double pink to green flowers is a trademark of 'Nora Barlow,' a mutant vulgaris form cultivated for over two hundred years. Many gardeners love the blossoms, while some noisily declare hatred for them.
In 2000, Christopher Lloyd wrote, "It is an ugly flower, but different." Lloyd always had strong opinions to share, and I can't entirely agree with some of his assessments. Although the flowers differ, I decided ugly was too strong to describe the quiet, interesting flowers. Then along comes Robert Nold, who wrote, "Or, it looks somewhat like a columbine that stuck its finger into an electrical outlet by mistake."
Sigh. Maybe I have a soft spot in my heart for mutant underdogs. I grew the plants from seeds harvested from a family member's garden. When the columbines were large enough, I nestled them into a partially shaded area amongst ferns and rhododendrons. At first glimpse of the newly opened flowers, I, too, was disappointed. Slowly I changed my mind. The garden looked rather lovely with the addition of the subdued colors of the columbine's blossoms; they blended well with the woodland-like scene. I recommend them for a cutting garden because the racemes full of flowers make voluminous filler for a vase.
Aquilegia McKana Hybrids are tried and true columbines that are easy to find and easy to start from seed too. If you've grown columbines, chances are you raised them.
To discolor or not to discolor, that is the question. The deep blue flower is an excellent reason to grow this columbine. This little gem is often known or sold as Aquilegia discolor. However, taxonomists consider it a subspecies of pyrenaica — Aquilegia pyrenaica ssp. discolor. Discolor — meaning two colors — refers to the blue and white blades of the flower. Described in 1879 by Emile Levier and Louis François Jules Rodolphe Leresche, Aquilegia discolor considered validly published.
While the taxonomists wrangle over the name of the species and where it belongs, we can enjoy the flowers in our gardens. The charming blue and white flowers are attractive, even more so when planted in a drift in the well-drained plot.
Another species I want to note here is Aquilegia yabeana for its deep purple, nodding flowers that make it look nearly black.
Who's your daddy?
Most columbines are not hard to grow. Their drawback is many are short-lived perennials. The good news is they are a promiscuous bunch. With plenty of tiny pollinators cavorting about, aquilegia will cross-pollinate with any other columbine. When open pollination season is over, there will be plenty of seeds to sow. However, if you prefer purebreds to mutts and grow more than one species, you must make like a bee and hand-pollinate your flowers.
You may notice leaf miners making a mess of the leaves. Typically, about the time the leaves are looking bad, the flowers are going to seed. Cut the whole plant back to the ground. This action rejuvenates the plant with new leaves, which quietly take a back seat in the garden.
If you see bees poking holes in the spurs of your flowers, realize it is an evolution in progress. Guess what the flowers are going to do about nectar theft?
Written initially for the Garden Life column in the Kitsap Weekly Newspaper insert and expanded for Rainy Side Gardeners.
Share