Behind The Art of Retreat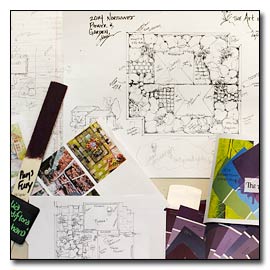 There's a lot of work to create and set up display gardens at the Northwest Flower and Garden Show. A veteran of the event, garden designer Sue Goetz of the Creative Gardener and Urban Garden Company, knows how much work is involved. She designed her first display back in 2004 and has seven shows under her belt. Recently she shared a behind-the-scenes look at what it takes to build a garden on top of the cold, hard concrete in Seattle's Washington State Convention Center.
"You don't just dig a hole in the dirt and plant," she said. "You literally have to build the earth to plant in."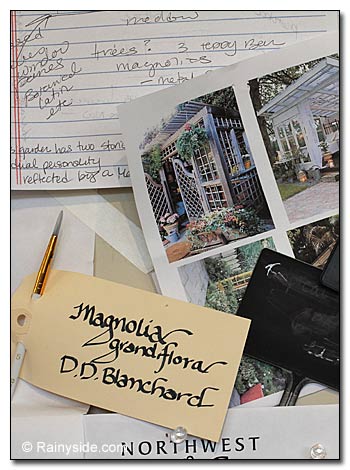 Making the finished display look like a mature garden is no easy task, but designers make it happen every year. They take a concrete lot and put up a paradise.
It starts with a concept: an idea roughly penciled out on a napkin, scrap, or notebook filler paper. Ideas are gathered in the form of images, paint chips, and notes. The finished design goes to the NWFGS and is either approved or rejected by the show. This year Goetz wanted a 29 x 26-foot island garden. If the space is against the wall, the designer plans for one viewpoint from the front. However, an island garden needs all four sides, each a focal point in its own right.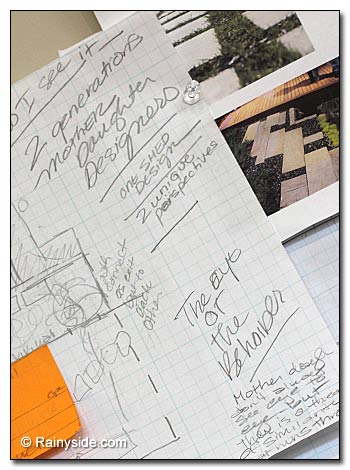 Once the plan meets approval, each step after that painstakingly brings the design closer to the finished product. This year, Sue Goetz teamed up with her daughter Courtney to build a two-generation garden named "The Art of Retreat." Courtney is also a veteran of the show, helping her mother over the years. This year will be her second time as a designer, designing her first solo display garden in 2011.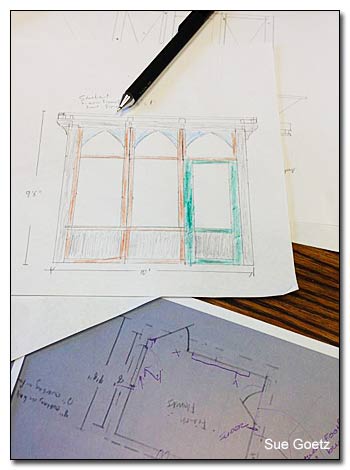 Both generations are bringing a distinct style to their display garden.
"She plugs in, and I want to unplug," Sue explained about the real-life difference between the generations. Each personality reflects in their garden studios — Sue wants a quiet haven, while Courtney desires a video haven where she can plug in and play her games.
Sue's quiet haven concept began as a French flower storefront surrounded by an English cottage garden. Inside her studio, she wanted to use vintage furnishings in a space where she could relax or work on her botanical drawings.
"A place where I unplug and unwind," she said.
Courtney's concept greatly contrasted her mother's — a desire for a video game haven with a geometric, modern feel that fits her video girl style.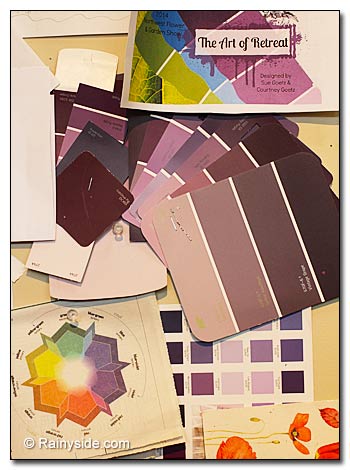 How did Sue and Courtney meld the two unique styles into one cohesive display? Painting the back-to-back studios the same hue unites the buildings. The garden has the same plant palette throughout and the same stonework and other hardscapes, which creates cohesiveness and melds with both styles.
Sue found Schuan Carpenter, owner of Little Mansions, to build the outdoor structures for the display. She was pleased that he took her drawings further and sketched out a Parisian storefront concept for Sue's studio. For Courtney, he presented a modern-style floor-to-ceiling window motif in the front crisscrossed with rust metal bars.
"He turns buildings into works of art," Sue explained. His detailing and artisan touches were perfect for what the two-generation team wanted in their havens. He added stained glass windows and hand-cut corbels to one building and a sliding barn-style door for the other.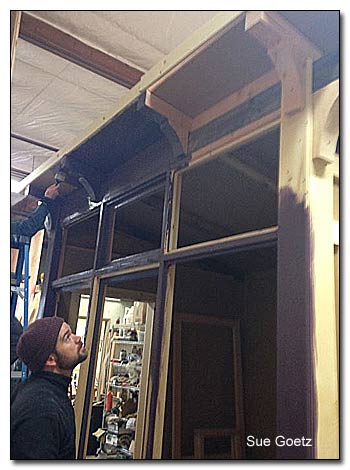 Sue Likes Botanicals, Courtney Likes Batman
Sue plans to furnish her studio with her signature vintage style, utilizing wicker and featuring her botanical art. Courtney plans to equip her Court Cave with video game art, metal shelves, a drafting table, and storyboards to reflect her video girl style. She plans a video game face-off during the show.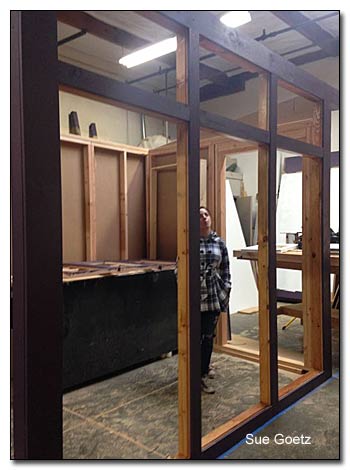 They will bring nine pallets of stone in and build the 29 x 26-foot garden up to 21-inches tall, carefully planned for the building foundation heights. They must also calculate for foundation plantings where the stone paths and patios will be. Then estimate how much hardscape material and plant life is necessary to cover the garden.
Sue prepares herself for glitches that sometimes happen during a display setup. She's experienced a few through the years. One major setback came when a conservatory building transported from Canada became delayed at customs at the Canadian/American crossing. The driver called from the border when the conservatory was scheduled for set up in the convention center and announced they would be late. The building finally arrived a few hours later, but the lateness rattled a few nerves.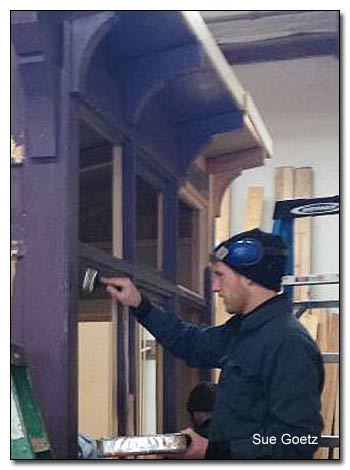 Forcing plants to be blooming at the show is a delicate balancing act. Nurseries pull stock in and out of greenhouses when weather dictates to slow the buds from blooming too soon or speed them up to flower on time. The beautiful sunny weather of January this year has made forcing plants trickier than usual and brought some plants to flower earlier than planned. Goetz knows that you have to be flexible with your plant palette too.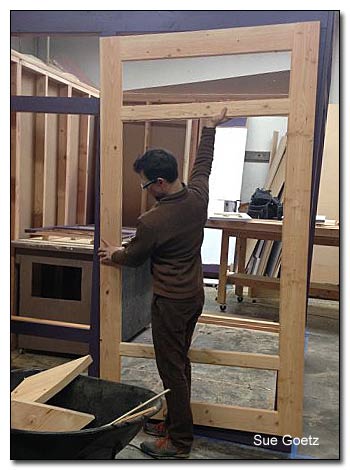 For this reason, Sue already had to switch some of her plant choices. One year, plants for her displays were in an Oregon greenhouse that collapsed during a snowstorm. The plants were okay, but they couldn't reach them safely and in time for the show. Sue explained how contingency plans are a must since you never know what can happen.
All who attend this garden event appreciate the efforts put into the display gardens by designers and their teams. Sue and Courtney Goetz, Little Mansions, and Father Nature Landscapes. They all work hard to bring a magical experience to everyone who attends the Northwest Flower and Garden Show.
Here's a follow-up: The Art of Retreat Award Winning Garden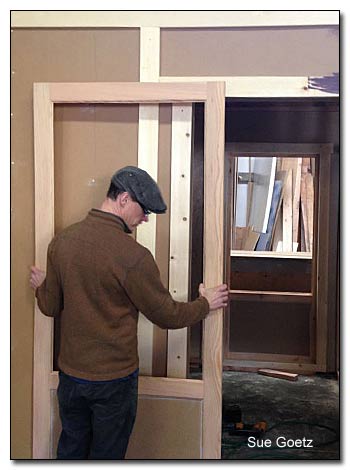 Here's a follow-up: The Art of Retreat Award Winning Garden
Original article for Rainy Side Gardeners: 2014/02/03.
Share