'Tis the Growing Season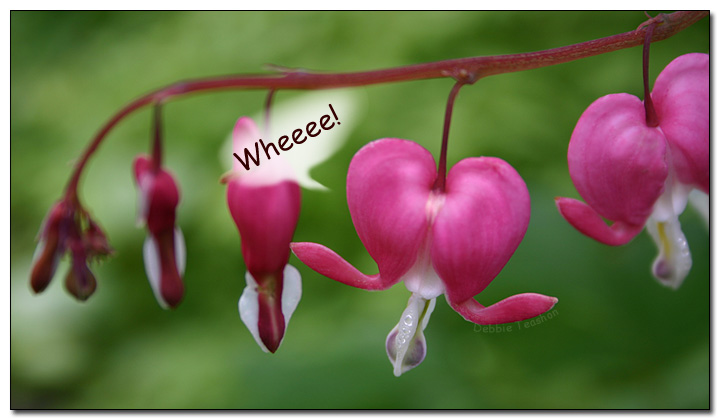 Flashback to December 2004
I almost deleted this essay when receiving paper catalogs was a traditional annual event. I decided to keep it as a look back before the internet took over as the go-to for plant catalogs.
The day after Christmas is a beautiful day. It is time to relax, play with new toys, and reflect on the joy of being with the ones we love. Since I took a step back from the hustle and bustle of Christmas, trying to meet everyone's expectations, plus getting rid of many of my unrealistic ones, the holidays are now a joy.
I look forward to welcoming in the New Year.
Somewhere I read, we began the tradition of displaying sparkling lights to brighten up the darkest time of the year. After the holidays, when I take down the lights, the world appears drab.
Not all is lost, though, as my thoughts turn to garden catalogs — seed catalogs, catalogs of plants, not to mention catalogs filled with garden tools and books about gardening. Perusing the selections of the diverse inventories is a perfect way for me to spend the lightless days of winter planning for the upcoming seasons.
I dream of the green days of spring and Kermit the frog saying, ". . . green is the color of spring, and green can be cool and friendly-like, and green can be big like an ocean, or important like a mountain, or tall like a tree." There are plenty of garden catalogs to support that sentiment, along with Kermit.
Last year, I planned for too much buying of the green and not enough organizing my garden space. There are too many plants living in pots instead of planted in the garden. This year I resolve not to take on more than I can handle. Protecting plants that are not yet grounded in the earth is a consideration in winter.
At this moment, I can look out over too many leftover plants, patiently waiting for me to dig them in.
My dilemma is, I want to grow almost everything.
Unfortunately, I do not have enough property to plant everything I want. Therefore, I want to cut back to a realistic amount of plants and seeds I order from catalogs. I am not sure how I will be able to accomplish this self-discipline.
I view lovely flower photos or read descriptions about a vegetable's delectable taste. The images of plants seem to dance as if sugarplum fairies in my head, whispering, "Take me with you." Like Pavlov's dog, I begin to salivate at the prospect of growing the plant in my garden.
When writers wax poetic in catalog copy, I want to dance to their beat and follow the leafy Pied Piper to the cash register.
This year, it will be different; I keep telling myself — a New Year's intent set. I will not succumb to every corm, birch, or berry, no matter how much their charms entice me.
They can be the rarest plants on earth if I don't have room in the garden or time to take care of them. Like Dionne Warwick, my song will be, Walk on By.
Before the turn of the century, I wrote a 12-step program on my plant addiction; I see it appear from time to time across the internet. Although I can't remember the whole piece, it was written tongue in cheek and more about enabling my addiction rather than helping me get over it.
Perhaps I need to write a somber one and take it seriously.
Nah! I can handle it. I will look at one catalog per day and only in the afternoons. I will leave my credit cards and checkbook at home when I go to the local nurseries and only buy what is on my shopping list. I will set a garden budget and stick to it.
When Ciscoe Morris is on the radio talking about the latest and greatest plant, he thinks I should grow, while he croons, "Ooo la la!" I am sticking my fingers in my ears, chanting, "La la la, I can't hear you."
When I pass a nursery, I will turn my head and head straight home. Once there, I will divide my astilbes or take cuttings of my favorite hydrangea bush. I will sow the seeds taking up half a shelf in my refrigerator while keeping my catalog seed orders to a minimum.
I say this every year. Yet as always, I succumb to the newest, the rarest, or the prettiest plants on the planet. My garden welcomes all of them. Instead of cutting back, I keep on growing new plants and writing about them, and I am always ready to help others with their garden addiction.
Every year I fall in love with gardening all over again. I'm hopelessly obsessed with it. The day after Christmas, the love returns as I wade through the stacks of catalogs waiting to feed my compulsions. I imagine Charlie Brown, in a similar dilemma, would say to Lucy, "Am I hopeless, Doc?" Of course, Lucy would lean over across her booth and state in a matter-of-fact manner, "You're a good gardener, Charlie Brown."
That's good enough for me!
Share