A Pleasure of Plant Pots Past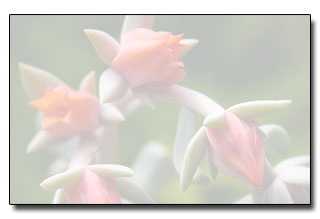 Flashback of flashback 2013
What fun I had today, going through my images of containers from the past. Every year is an adventure in creative experiments.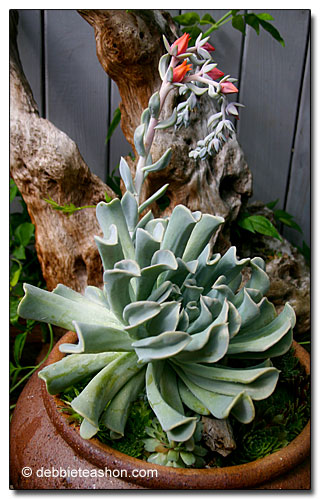 Today's walk down memory lane helped me remember my triumphs and disasters in container growing. Often the most memorable containers come from the simplest plantings.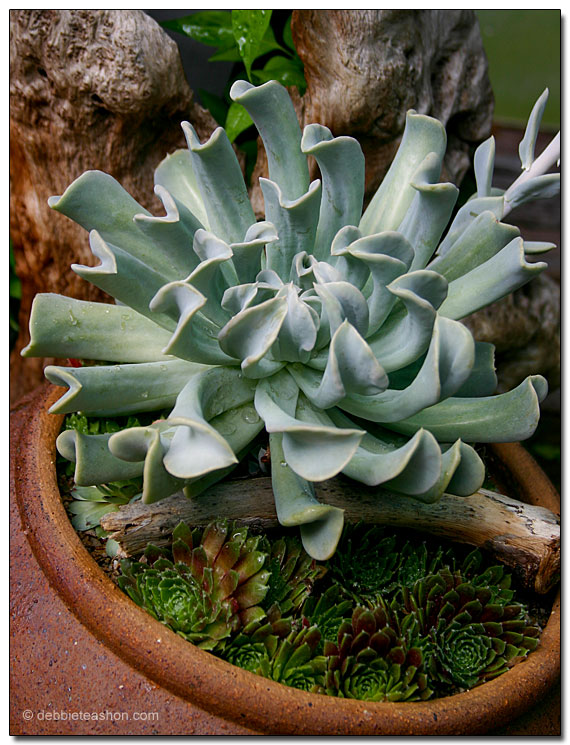 Coming across this image photographed in 2007, it made me realize I needed to grow Echevaria' Topsy Turvey' again. I grew it for several years, and for some unknown reason, I discarded it. I love the inside-out look of its succulent leaves. Here it is on my deck, growing in a shallow rustic, brown pot with hens and chicks (Sempervivums) at its feet.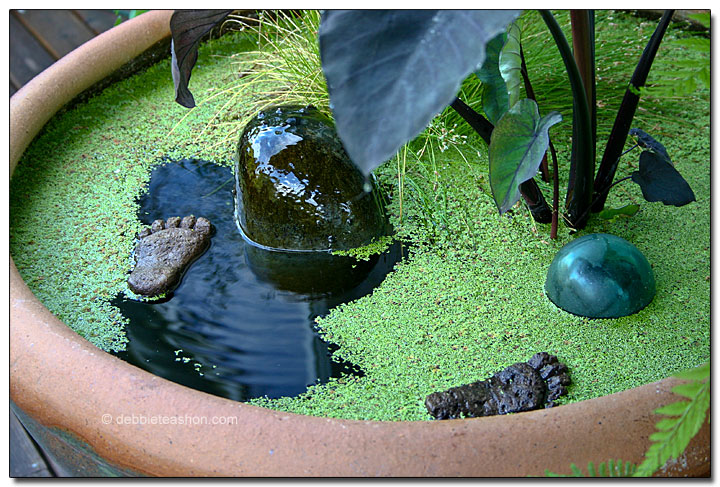 This large container I use as a year-round water feature. It housed many different plants, from water lilies to cannas and everything in between. One of my early configurations in this container included items I had on hand. It made for a fun pot when it sat on my deck. The rock bubbled liquid that parted the fairy moss (Azolla) enough to see the water. It is one of the three plants floating around the elephant ear's dark (Colocasia esculenta' Black Magic') stems and Isolepis cernua the fiber optics grass. A glass float drifts around whenever the wind blows. The best part was the carved pumice—two feet walking on water.
Shell Pot
I came across this image of a shell pot I used last decade for Begonia x tuberhybrida. The container has since melted from frost damage after leaving it out too many winters, but I appreciate the images I have of it from 2008.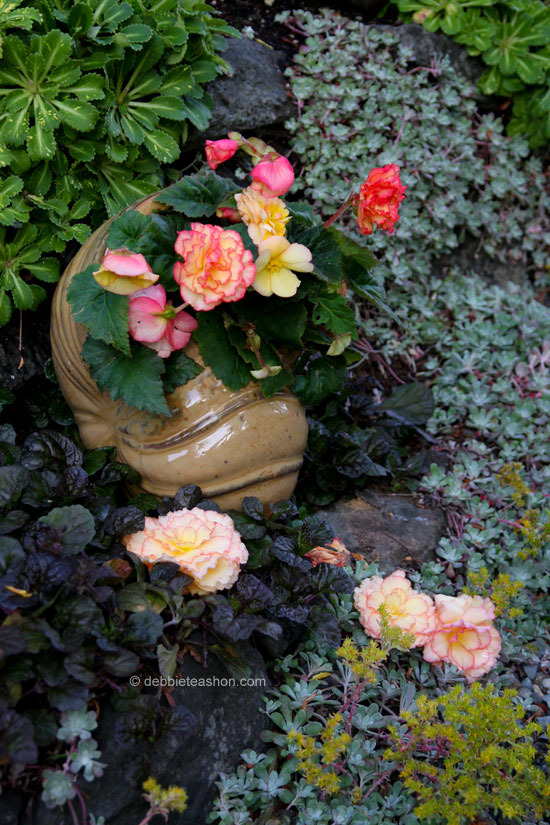 Before planting the container and propping it up against the rock wall in the shade of a plum tree, I drilled another hole for drainage. In the garden where textures and foliage colors rule, Saxifraga' London's Pride' grows on the wall to the left, and Sedum spathulifolium looks like a river running down the wall to the right. Both comingle with Ajuga' Black Scallop' at the bottom. The Begonia in the pot brought a bit of summer pizazz and livened up this shady corner of the garden.
Kono in the Garden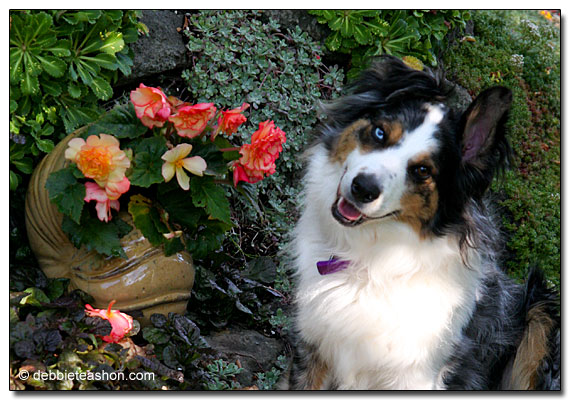 In 2008, when I brought this two-year-old Australian pup home, I knew I had to adapt the garden to accommodate a large, active dog. With many parts of the garden terraced in the front, he mostly stayed on the paths. Of course, he had to get in on the action of being photographed.
Share