Fun with the small-flowered pansies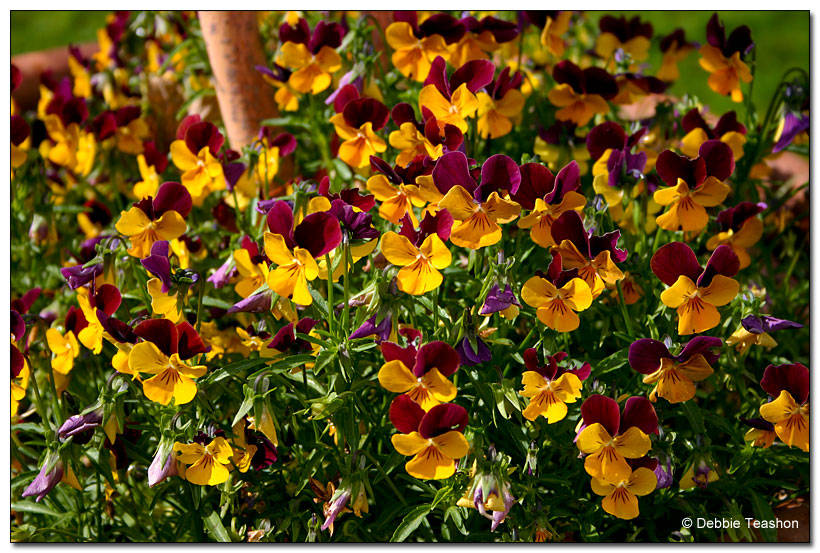 I thought I would do something a little different today. We often look at plant combos in pots with great designs, but we don't often talk about what plants are good to use in containers. So I will single out a genus here and there and focus on them. Right now, I will go the pansy route or the little violas. Since they are such great flowers in late winter/early spring and again as great fall-to-winter plants. I know they are used a lot, and you often see the same over and over. If you start from seed, it opens up many varieties that you can't get in the trade.
First one out of the box is Viola x williamsiana 'Penny Orange Jump Up' (above photo) that I started from seed in spring. When I photographed the group in a large container growing at the base of Acer 'Pacific Fire' in September, they jumped up, giving a fabulous fall show.
The green container contains the same ones and is planted with Carex testacea and Felicia filifolia. I would have put a large foliage plant in if this container had been standing alone. However, I did not do this container, and the designer tucked this into a bed filled with some large leaf primulas that made it work quite well.
A large rust-colored container was carried off by a customer, but I was able to enjoy it for a bit before it sold. The Viola 'Ultimate Radiance Red' was a cutie nestled in with Euphorbia, Carex, Heuchera, and Chrysanthemum.
I planted one of my favorites, Viola 'Tiger Eyes,' in a simple hand-thrown ceramic pot, and poof, it was gone! Glad I got a photo of it before it went away.
I loved that this little viola emerged from seed and bravely grew amidst the thyme (Thymus 'Elfin') growing between pavers this year. Yet so far, people seem to be avoiding walking on it.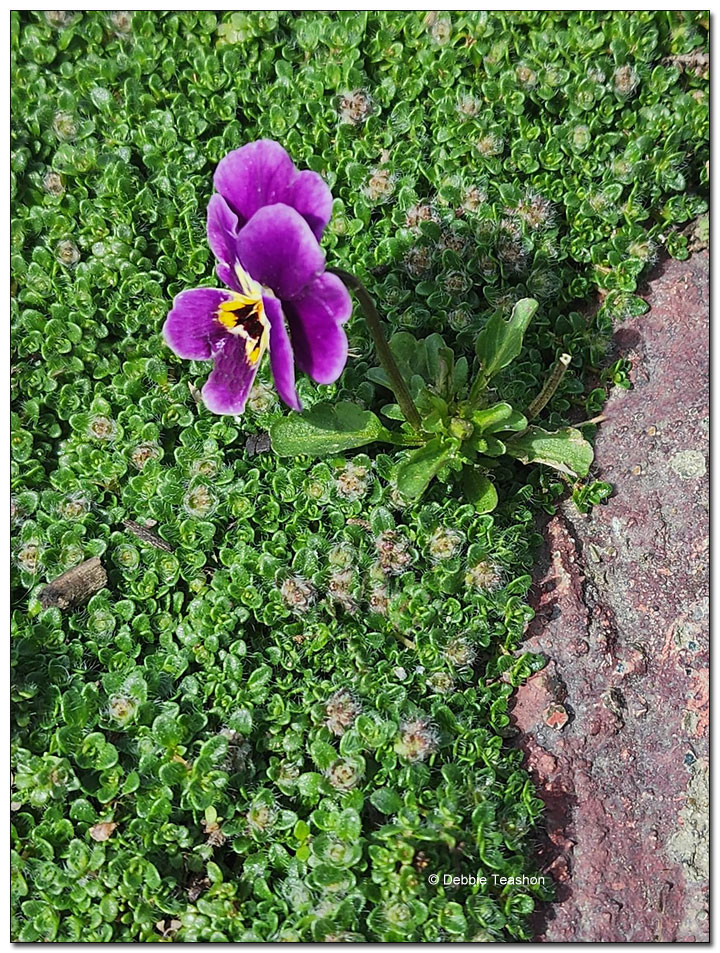 It is in a precarious position where feet can easily trample. It will be interesting to see if people will be careful with it when they sit on the bench in front of it.
Also, at work, I planted up a decorative, white ceramic watering can. Unfortunately, I don't remember the name. I simply placed one plant into it. Anyway, I've had fun with the little ones in containers over the years. They are lovely for early spring and fall containers and also in the ground.
Share