Allium's Ornamental Stars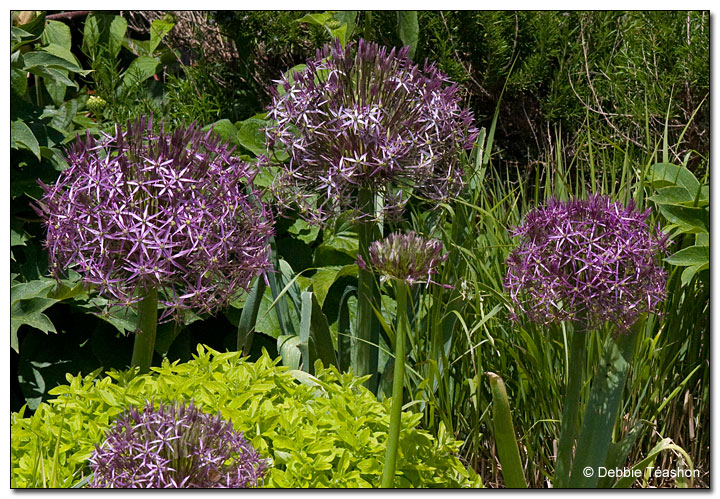 Nature did not create all flowers equal when it came to fragrance. When you view a flower, you instinctively want to bury your nose into it to get a whiff of its scent. Alliums will give you that, just not the sweet aroma you hope for when you do a sniff test.
Ornamental alliums may be highly scented yet will never win awards for their fragrances. It's hard to believe that ornamental and edible alliums belong in the lily family (Liliaceae), considering their onion- or garlic-like perfume.
Still, gardeners love the ornamental value of alliums in the garden. The genus contains species and cultivars that enhance gardens with outstanding, large globes filled with numerous tiny flowers. With over 750 species, the large genus comes in various leaf configurations, bulb sizes and flower colors.
Many alliums bloom and fill a void between the season changes of waning spring flowers and before the summer blossoms are in full swing. They're perfect flowers for bee foraging. Best of all, when deer try to browse the plants, they turn their snouts away in disdain and move on to less pungent attractions in the garden.
Alliums grow in spheres for reasons that have nothing to do with design. Nature had a better plan. When the umbels dry, the wind rolls them around on their native dry hillsides, scattering seed with abandon.
Cultivation
Most alliums grow in dry, rocky soils in their native habitats. They enjoy well-drained, not-too-fertile soil in the garden setting. Bulb rot occurs during the damp conditions of fall through spring in soggy soil. Alliums grow better in raised beds in a clay soil garden, keeping the bulbs above the muck. Diseases and pests seldom become a problem when you plant alliums correctly for their needs.
Plant bulbs in large groups for best floral displays. Site them where the leaves will hide behind other plants. Many species' and cultivars' leaves begin to fade when the flowers bloom.
Divide when plants become too compact. Separate the clumps or transplant the bulblets picked when the plant goes dormant.
Propagate by seed, but know this is a long-term commitment. Many species may take two years before the seeds germinate. Afterward, it takes two to three years before they flower. When the choicest species are expensive to buy, you can plant a few bulbs now and start seeding at the same time for later flowers in the garden.
In containers, plant your bulbs 3-5 inches deep. The stems grow from the side of the bulb and will fall over if not planted deep enough.
Noteworthy Alliums
Allium christophii (star of Persia)
Star-shaped, pinkish to gray-pink florets are generously packed into a 12-inch-diameter, globe-shaped umbel.
Although A. christophii is a parent to the popular 'Globemaster,' the species is a striking, sizeable flowering allium in its own right. The flowers last a long time in the garden and eventually dry and last well into the winter season. Some people spray-paint the dried globes, while others prefer au natural.
Pronounced: kris-TOFF-ee-eye
Height: 32 inches
Light: Full sun to partial shade
Allium crenulatum
In the Northwest (British Columbia, Oregon and Washington), we have the native alpine scalloped onion. Nearby, it grows on the slopes high in the Olympic Mountains, where the plant barely reaches 6-inch rock outcroppings.
Although edible, they are difficult to dig up in the rocky soil, where they grow deep. The alpine plants are tough to grow in garden conditions but can persist on sandy soil and troughs.
Pronounced: kren-yoo-LAIT-um
Height: 6 inches
Light: full sun
Allium giganteum (giant allium)
From Central Asia, Iran and Afghanistan, this species — with its 5-inch spherical umbel containing hundreds of lilac-hued florets on top of a long stem — is one of the most used ornamental onions for cut flowers. When the plant comes into bloom, the foliage fades, so hide the foliage if you can.
Pronounced: jy-GAN-tee-um
Height: 3-4 feet
Light: Partial shade
Allium 'Globemaster'
Large globes of flowers float in the late-spring garden wherever this allium is planted. A cross between Allium christophii and macleanii resulted in this stunning cultivar. The sphere of flowers can reach up to 8 inches wide, filled with vivid violet-purple florets that last three to four weeks in the garden. They are exceptional flowers for drying.
Height: 35-40 inches
Light: full sun to partial shade
Allium karataviense (Turkestan onion)
Allium karataviense is a dwarf ornamental onion with a lot of spunk. It grows exceptionally well in our Mediterranean climate, as the plants go dormant during the annual drought.
The species and cultivars have the utmost attractive foliage in the genus — the horizontal, pleated foliage is green with a purple cast. As the blossom first opens, the flower nestles on top of the striking foliage. The flowering stems continue to grow, pushing the large, spherical umbels up and away from the leaves just as the foliage looks shabby.
These alliums are prone to rot, so grow them in well-drained soil or containers with excellent drainage. Some A. karataviense cultivars available are 'Ivory Queen,' 'Lucky' and 'Red Globe.'
Pronounced: ka-ra-tah-vee-EN-see
Height: 4-10 inches
Light: full sun to partial shade
Allium schubertii (Tumbleweed onion)
The tumbleweed onion is a strange-looking flower from the Mediterranean and Central Asian countries. With their loose arrangement in a 6-inch-wide spherical blossom, the flowers give it more of a Fourth of July, sparkler-like appearance.
Pronounced: shoo-BURT-ee-eye
Height: 18 inches
Light: full sun to partial shade
Share