Dynamic Winter Containers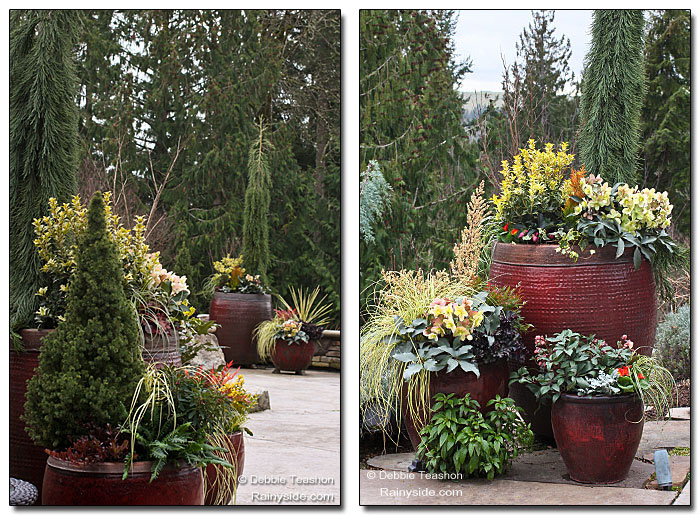 Barely into winter, and the signs of the season are everywhere. The vibrant aspects of warmer times have left for sunnier climates. Anything left in the shadow of a sunless sky is rendered drab by the eternal gloom of rain. Deeply entrenched in the saga of "As the Drizzling Rains Fall," are you ready for some vibrant color in the garden?
Take heart. Dramatic winter containers will pop some color back into the landscape. It's the time when staged, frost-proof pots shine within the eye view of your window or the entry to your home. Fill your planted containers with evergreen foliage shrubs, conifers, bright twigs, and pops of vivacious flowers.
For garden designer Christina Salwitz, co-author of the books "Fine Foliage" and "Foliage First," planting fabulous containers every season is one of her joys. For winter containers, she is not afraid to grab a pot of a leafless, rose hip-laden Nootka rose (Rosa nutkana) and marry it to the bright orange-red twigs of the shrubby Cornus 'Midwinter Fire.' She's not shy about slipping in a Heuchera or heather, or a bit of golden sedge with an evergreen fern.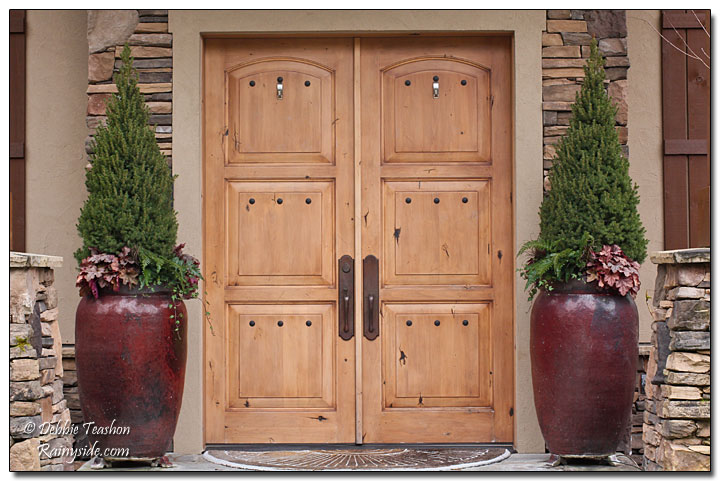 For the home's front entry, Salwitz plants the containers for more than one season.
"I like to stick with generic plants for a front entry — something I can transition from fall to winter and dress them up for the holidays," she says. "And then after Christmas, have them still look good enough until I can put in primroses and other plants as they become available."
Salwitz picks a different theme every year. Some years, she designs a rustic setting, and other years, she likes to go "all glitz and glam," as she calls it. Selecting for a holiday dictates the choice for the centerpiece plant. Yet, the holiday season's chosen color does not necessarily have to stay put when the new year begins.
You can switch things out as soon as new selections are available at your favorite garden center. One recommendation from Salwitz that fits handsomely with an Alberta spruce is yellow twig dogwoods, daffodils, and yellow primroses.
Using conifers in containers is a great way to invest in smaller plants, grow them in pots for a few years and then plant them out in the landscape. However, select a size in scale with your container. A large pottery piece needs a larger centerpiece plant, or it will look ridiculously out of place.
The conifers can grow as a centerpiece in the pot all year. You then change out surrounding plants according to the season. It means money well spent on plant material that will live on in the garden long after it outgrows its use in a container. Any plant that looks good in a winter pot will also look good in the winter garden.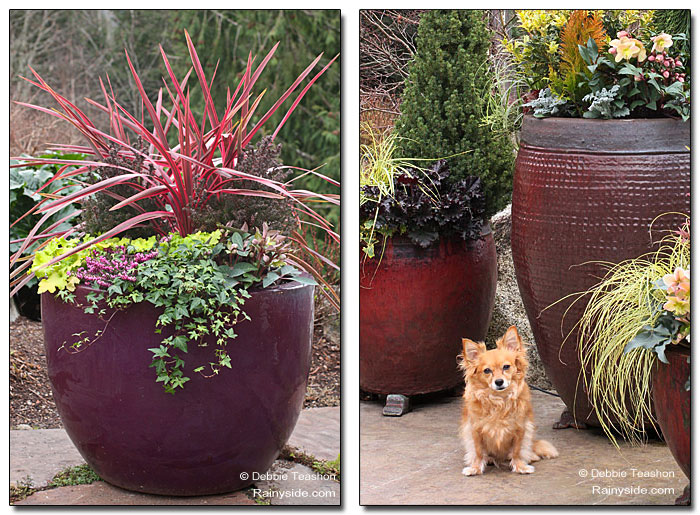 "Your budget is obviously going to dictate everything," Salwitz explains. "If your budget allows you to pick a centerpiece plant that is flexible with year-round interest, that is really worth the investment. It will be a more valuable plant when it goes out into the landscape later when you need it. It's taking a $50 plant and ending up with a $100 plant when you finally get it out in the landscape, if you are taking care of it."
She says she likes to look at a plant as a landscape investment first, rather than saving money in the short term.
"Then, even if I throw in inexpensive annuals around it later, it still looks stylish," she says. "I try to look for things that are going to hold for a long term, like a hellebore or fancy ivies that can really stand up to the weather in a pot for winter."
Salwitz's favorite winter flowers are hellebores.
"Any flavor of hellebore would be my favorite. Not only does she (hellebores) have awesome flowers, but she is also the whole package," Salwitz says. "She is the five-star starlet – she has the foliage and the flowers together."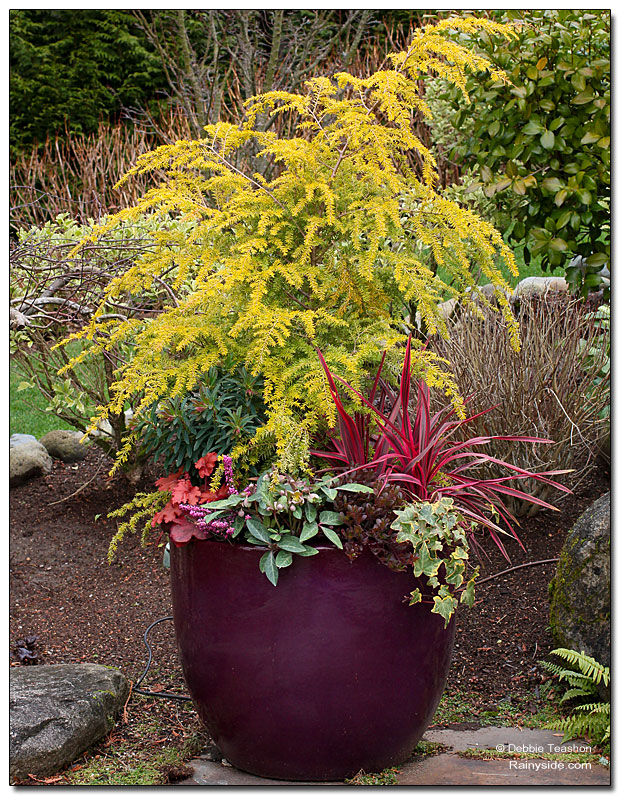 For foliage, Salwitz says, "Heuchera has a wealth of color options and textures, and it's an easy-going plant in the sun or shade. The other (choice) would probably be any of the nandinas. There's just a zillion different awesome nandinas," she says. "They are super flexible about sun or shade and take a ton of abuse."
Choosing and placing plants may seem daunting. A rule of thumb in placement is to not center the tallest plant in the middle but offset it to the side. Then build around it. Salwitz prefers to use the same design concepts in a Japanese ikebana flower arrangement for her containers.
You can take a large cart at the garden center, select your centerpiece plant and set it on the cart. Whether a cordyline or spruce, you can build your plantings around it right on top of the cart.
Select plants to reflect a theme, then choose what you love in color and textures. A winter container needs you to cram it full of plants to make it lush since they do not grow and fill out over the winter months.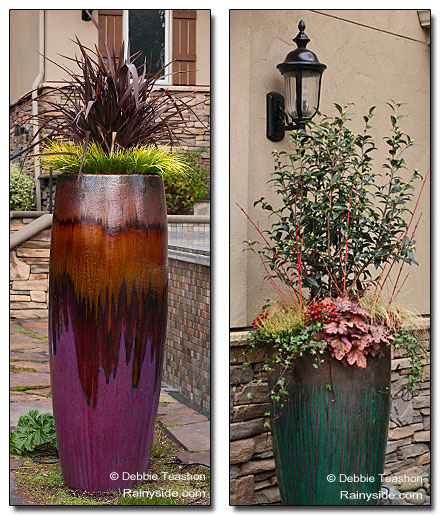 When using containers outdoors throughout the year, it is essential to look for quality pottery that holds up in winter. The thicker the pottery walls and the rougher the texture is inside the pot, the better it holds up in wet winters.
"Very thin-wall pottery, I don't even bother dealing with," Salwitz says. "It will rarely make it through a couple of winters. You can buy cheap pots and replace them more often, or buy higher quality, thicker-walled clay that is made to hold up in our winters."
Potting soil is another important consideration for your containers. Only use potting soil in your pots because it is composed of material that keeps it from compacting down. Some people make the mistake of buying compost or bags of garden soil because it is cheaper. However, it is disappointing and not money-saving when the plants do not thrive or die from lack of oxygen around their roots from poor drainage.
Winter containers add drama to the cold winter season. Our region has a massive selection of foliage plants with splendid hues brightening the winter seasons.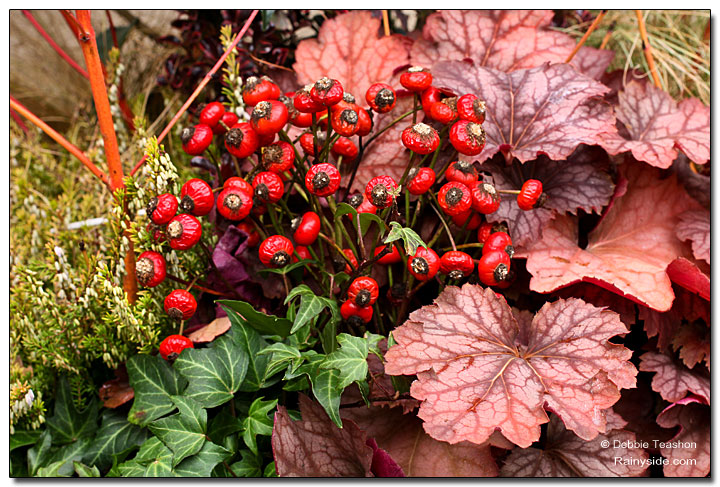 Share