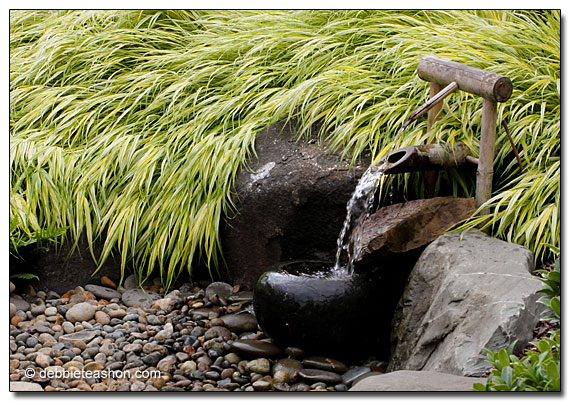 Flashback to 2014
Imagine a water feature surrounded by Japanese forest grass (Hakonechloa macra 'Aureola'), large rocks, and a bamboo Shishi-odoshi water feature. The owners of the Jackson Meadows garden in Rochester, Washington, not only imagined it, but they also created a space where the grass billows down around their Shishi-odoshi and enhanced the scene with a mild, grassy, flowing effect.
Shishi-odoshi is a Japanese word that means scare the deer. The bamboo fills with water, and when it's complete, it tips down, spills the water that disappears into a basin of river rocks, after which, without the weight of water, the bamboo raises back up and clinks against a stone. The water refills the bamboo tube and continually repeats the process. The sound is supposed to scare away any marauder, such as deer that would eat the plants in the garden.
Imagine a low shed roof planted in the same Japanese forest grass. I believe it would look almost like a living thatched rooftop. The top would be beautiful during the warmer season and, in winter, turn tan as it dies and dries. Come spring, after a much-needed dead grass haircut, the Hakonechloa grows again. I see it in my imagination and someday would love to build a small building with a roof full of falling grass. However, I cannot imagine a tall building that would require a ladder to reach and maintain the plants.
Hakonechloa 'All Gold'
Imagine any of the flowing Hakonechloas adorning your garden. Imagine the green blades of the species (Hakonechloa macra) that turn red-gold in fall, the H. 'All Gold' that is golden all season, or the multi-colored H. 'Briform'. Any one of them will look fantastic as one plant cascading down a rock wall, overflowing a hanging basket or pot, or a garden filled to overflowing with them. This grass is a feature that adds a tumbling effect of water wherever it is planted.

Imagine the possibilities!
A blending of many types of plant material. From top to bottom: Osmunda regalis (royal fern), Hakonechloa 'All Gold', Coleus 'Big Red Judy', Prostanthera cuneata (bottom left), and Hebe albicans 'Snow Cover' (bottom right).
Hakonechloa 'All Gold'
More Hakonechloa 'All Gold'
Even more Hakonechloa 'All Gold'
Imagine this pink, white, yellow and green grass lovely cascading over a rock wall. Hakonechloa macra 'Briform'
Jackson Meadow Garden in Olympia, WA.