Bring Back Arisaemas to My Garden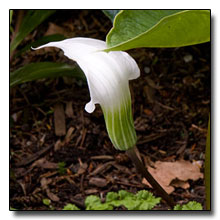 Arisaemas! I miss them. Once upon a time I had a small, but beautiful collection in my garden. In this new woodland garden I only have two! I'm looking forward to it blooming. In the meantime I am now revisiting them in photos. I will add many more to my collection, as I don't have to make shade, it's already here!
Arisaema franchetianum
I photographed these three images in a Bainbridge Island garden. Unfortunately, I couldn't find the information for the garden they came from, so I can't give credit. I grew this one too. I never managed to take a good photo as too many other plants surrounded it.
The flower always turned its back on me — probably sulking about how crowded it felt. Frustrating sometimes when the best place to photograph it is where it turns its back on you!
I love the striped flowers. Arisaemas never disappoint with their character (accept for the sulking ones).
I don't know about you, but I often put human expressions on plants, especially flowers. When I look at these two flowers, I get the distinct impression they just fought. Now I don't feel so bad when they turn their back on me. They do it to each other!
Arisaema sikokianum Silver Pattern
This has to be the sweetest-looking Arisaema I have grown. Arisaema sikokianum Silver Pattern I purchased from Far Reaches Farm.
This time, I photographed the plant tag to read all of it, not just the title. I am going to do this more often, because they often include good information about the plant. This gem says, "The creme de la creme of Arisaemas in many gardener's eyes. Marvelous silver splashed foliage and unmistakable flowers that are pure sculpture. I think it is the visually arresting spadix standing upright in the flower seemingly chiseled from the finest white Carrera marble."
Arisaema thunbergii var urashima f alba
Arisaema thunbergii var urashima f alba
I am reasonably sure I bought this from Dan Hinkley in 2013. It was blooming, so I took it home and photographed it on my deck. I then planted it in a spot where it was hard to get a good shot of it — a pretty little thing.
Arisaema candidissimum White Form
Arisaema candidissimum White Form
Oh yeah, turn your back on me. Alas, not in my garden, and of course, I couldn't get a good shot of the hood. This is a rarer form of Arisaema candidissimum. Most have pink hoods. Now need to see if there are more out there… somewhere…
Arisaema utile
Arisaema utile
This was such a stunning plant. I photographed it on my deck while still in the pot. Then, I planted it out and never saw it again. What an expensive photograph this turned out to be! I would plant this one again and then guard it with my shotgun. But, first, I need to buy one; the gun, that is.
Arisaema concinnum DJHC727
Arisaema concinnum DJHC727
The first Arisaema I bought at Heronswood Nursery. I moved it to a different location next to an apple tree for shade. Then didn't see it for several years. A few years later, there it stood.
I don't know how I missed seeing it, but the foliage was a welcome sight, in the garden.
Arisaema triphyllum 'Black Jack'
Arisaema triphyllum 'Black Jack' has personality plus! I photographed it while still in the pot and then planted it under my Heptacodium tree. I didn't lose this one for a change.
Arisaema costatum
Arisaema costatum
Another favorite that hung out under the Heptacodium tree. The rich burgundy with thin white stripes made it a knockout. Especially when the holly fern made a pleasing backdrop to the aroid. I purchased this at Judy's Fronderosa Frolic back in 2010.
Arisaema consanguineum
Arisaema consanguineum
I photographed this in Shayne Chandler's garden and remembered that I want to buy this one for the spectacular foliage. Very similar to A. concinnum, but with more leaflets. Here it is married with Begonia 'Shayne-grila' and Saxifraga stolonifera 'Maroon Beauty'.
Easter Exposed a Rebel
I wrote this one Easter day and decided to plop this in here.
Can I love an early flowering aroid standing quietly in front of me on this sunny Easter weekend morning? Across my garden, I see a multitude of flower colors. As the air warms up, the tiny primulas with cute little flowers nonchalantly toss their sweet perfume into the air. The blowsy daffodils burst out of the ground with flowers aflame in yellows, pinks, and oranges! All last week I saw Easter lilies in the stores that promised a delicious fragrance for my home. Moreover, all the Easter décor of soft pink, peach, yellow, and blue, all set to welcome the spring, which recently landed at my front door.
Who you callin' ugly?
Yet my eye keeps coming back to a solitary aroid (Arisaema nepenthoides) that bravely came out of the ground ahead of all its other relatives to say hello to the holiday. It wears no bright colors to make it stand out from the awakening earth. With a mottled amphibian skin-like color, it blends into the decaying leaf litter surrounding it.
Arisaema nepenthoides foliage begins to unfurl.
Commonly called a cobra lily, it's nothing like the flamboyant lily divas of the summer garden. And with an "eau de scummy pond water" fragrance, it certainly won't win any perfume contests. Yet here it stands a few feet tall, defiantly naked of foliage, daring me to look away from the exuberant Easter colors of the Pieris, Ericas, Helleborus, Crocus, Daffodils, Iris, and Ribes that surround it. Or maybe it just doesn't care, for what it wants to attract is that which we disdain — flies and other such insects for pollination.
The foliage hides the flowers.
Let the other plants attract the bees and hummingbirds to them. The aroid warms itself under the early Easter morning sun, beating a different drum than the "flowerista" crowd.
Yeah, I somewhat identify with this rebel.